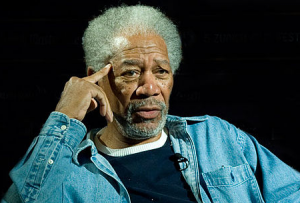 Cosmos isn't the only TV show on right now for science fans, Morgan Freeman's Through the Wormhole is returning for its fifth season this week, with another round of provocative questions about life, the universe, and everything. And in an interview with Salon about the show, Freeman mused in an aside that it's "stupid" for anyone to reject the idea of global climate change.
In past episodes, Freeman's taken on provocative questions like "Is There a Creator?", "Does Time Really Exist?", "Can We Eliminate Evil?", "Did We Invent God?", and "Do We Have Free Will?" Well, here's another provocative topic, being asked on this week's show: is there a genetic basis for poverty? Freeman explains the topic by talking about all the factors that contribute to global economics.
And one of the factors having great impact on the world is climate change, and when asked about the scientific method falling "out of favor" in the public eye when it comes to climate change, Freeman gave a blunt answer.
Freeman: My answer to that is too simple, I have to let James talk about it. I think the people who are resisting the idea of climate change are stupid. [laughs]
Wormhole producer James Younger added that the show is not about changing minds, but about opening people's minds and trying to "engage their sense of philosophy and wonder about how the world works." And so doing an episode about climate change just to say, "Yes, it's real, get used to it," wouldn't be terribly interesting.
You can read the full Salon interview here.
[image via Zurichmasterclass]
— —
Follow Josh Feldman on Twitter: @feldmaniac
Have a tip we should know? tips@mediaite.com
Josh Feldman - Senior Editor