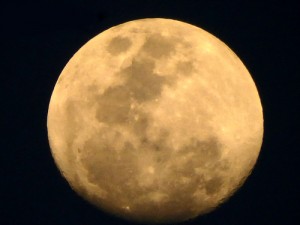 On Sunday night, what National Geographic dubs a "rare super blood moon total eclipse" will coincide with the recent fall equinox, which traditionally signals the end of summer in the northern hemisphere in September. However, this massive confluence of lunar events has riled up many religious Americans into an apocalyptic fervor, especially the Mormons.
As The Guardian reports, so many members of the Church of Jesus Christ of Latter-day Saints are worried about the event, which follows on the heels of several natural disasters and moments political upheaval around the globe, that church leaders had to issue an official statement asking members to calm down.
Leaders of the church told its 15 million worldwide members that they should be "spiritually and physically prepared for life's ups and downs," but urged them not to take speculation from individual church members as doctrine and "avoid being caught up in extreme efforts to anticipate catastrophic events."
The precise number of Mormons who are worried remains unknown, but given the official statement and a sharp "rise in sales at emergency-preparedness retailers," church elders felt it was necessary to make an official comment on the matter.
It's not just Mormons, for members of many other religious sects — especially Christians in the United States — are also partaking in the extreme preparedness.
Yet as Howard W. Hunter chair of Mormon studies at Claremont Graduate University in California, Patrick Mason told the Guardian: "For it to filter up to that level and for them to decide to send out a policy letter means that they felt there was something they needed to tamp down on."
Some of the panic has been attributed to popular Mormon author Julie Rowe, whose books and website tell of a coming catastrophe she supposedly witnessed during a near-death experience. The church told the Guardian that Rowe's works are neither officially sanctioned nor endorsed.
[h/t The Guardian]
[Image via Shutterstock.com]
— —
>> Follow Andrew Husband (@AndrewHusband) on Twitter
Have a tip we should know? tips@mediaite.com