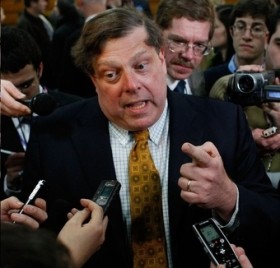 Two days ago Gawker's Hamilton Nolan got his hands on a leaked email from the executive VP of PR giant Burson-Marsteller to it staff suggesting they use Mark Penn's (yes that Mark Penn) latest column on the subject of "glamorous camping" as a way to get new clients in the industry. Mark Penn happens to be the CEO of Burson-Marsteller.
Yesterday, after the story made the media rounds, the Wall Street Journal responded:
"Mark has assured us that through our conversations that he's complied with his conflict of interest policy. He does not have any glamping clients nor did they target them before the column appeared…Obviously when you have a contributor, they use a column to market themselves. Clearly what was done is not something that we liked. But we're pretty sure that it's going to stop."
But it didn't stop there. Today the New York Times (with the briefest of nods to Gawker's involvement) decided to get on board:
The e-mail message was first made public by Gawker.com on Wednesday. In a statement, Mr. Penn, who declined to be interviewed, said that he had not seen the message until after it was sent, and that "nothing was done nor likely to be done as a result of it." He said that none of the companies mentioned in his column were Burson-Marsteller clients.

"I had no business motive in writing it whatsoever," he said. But, he added, "We will continue to distribute the columns to friends and clients alike, and assured The Journal they will not be tied to any specific marketing efforts."

Journal executives said that Mr. Penn had assured them that he had did not know in advance about the attempt to leverage his column into new business, and that it would not happen again.
*
Robert H. Christie, a spokesman for The Journal, said, "the reality is that freelancers do use their columns as ways of marketing themselves." When asked whether The Journal was comfortable with that practice, and specifically with Burson-Marsteller's actions, he declined to respond.
There is a couple of points to note here. First, Gawker has been increasingly commanding the attention of the MSM these days. And second, the NYT would make for a great blogger (or the end of journalism as we know it, depending)! This entire 665 word article is based on a piece originally reported by Gawker, and all Gawker got out of it is one lousy sentence of attribution.
Have a tip we should know? tips@mediaite.com