MSNBC, Please Don't Go All Middle-of-the-Road When Your Liberal Viewers Need You More Than Ever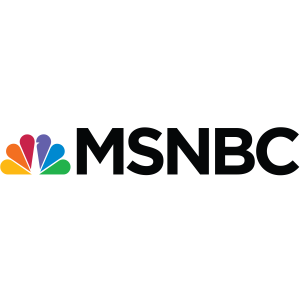 MSNBC seems to constantly be in the midst of an overhaul. Earlier this summer, the network was proclaiming that their days as a bastion of liberal commentary were o-v-e-r, just like they were last winter, for instance, although it didn't really seem like they ended up reining in Rachel Maddow, Chris Hayes, Joy Reid, and the rest of the gang either time. In the wake of the election of Donald Trump to the presidency, though, it's time to start asking whether MSNBC should be trying to rein them in.
Think about it: Now more than ever before, viewers need a liberal television network to tune into, be they liberal themselves or conservatives trying to get a "feel" for the arguments of the other side. Many fear Trump wasn't kidding about "[opening] up our libel laws" to make it easier to sue journalists.
With that in mind, it would be downright irresponsible for MSNBC to suddenly go all middle-of-the-road and stop offering up overtly left-leaning viewpoints. Many people are angry. Really angry and scared. They want a venue that will lead the way with news and commentary that recognizes and appreciates those concerns.
Listen, there are plenty of criticisms that media is too liberal. Those criticisms, however, are often fairly leveled at outlets like the Huffington Post and Buzzfeed. But there needs to be a liberal news network to balance out the viewpoints expressed across that particular medium, which still is incredibly influential. The Young Turks can't do it all on their own, nor are they necessarily trying to. Their broadcasts are primarily featured online. Ana Kasparian even once told us that her time in television newsrooms was disillusioning for her and was what prompted her to seek out an opportunity like she later found at TYT. That is not to say there is no space in news for television broadcasts. That space still exists and as long it still exists, it needs to feature equal representation of the leading schools of thought in American politics.
Where else can people look for liberal viewpoints on traditional television? Since Jon Stewart abdicated the throne at The Daily Show, the nightly broadcast that he made famous has failed to live up to the expectations his fiery legacy left behind. Sure, Bill Maher and John Oliver help out when they can on Real Time and Last Week Tonight respectively, but not everyone has HBO and to be clear, once-weekly shows are not enough to even out the selection of political opinions.
Look at the two main competitors of MSNBC, Fox News and CNN. Whether some people want to admit it or not, CNN is remarkably centered, and at the least, tries very hard to be. For every liberal commentator, there is a conservative. The shows tend to be hosted by actual journalists and anchors, not partisan pundits. Jake Tapper values journalistic neutrality so much that he does not vote and Anderson Cooper is seen as the industry standard for what "unbiased" is supposed to look like. On the other side of the spectrum sits Fox News, which is undeniably a hotbed for right leaning thought leaders. Fox News has a right to be that hotbed. In fact, it has as much of an obligation to its viewers to hold down the right side of the airwaves as MSNBC has to hold down the left. Bill O'Reilly and Sean Hannity make it clear that they are not journalists and we cannot begrudge them their right to share their thoughts.
Maddow, Hayes, Reid, Lawrence O'Donnell and the rest need to lead the charge of left-leaning opinion in the age of Trump. Their opinions are analysis are more important and valuable than ever in a new administration that has many liberals shivering with fear.
[image: screengrab]
This is an opinion piece. The views expressed in this article are those of just the author.