MTV Writer Offers Apology For 'Provocative Joke' After Calling Jeff Sessions' Granddaughter a 'Prop'
MTV News writer Ira Madison III has offered an apology of sorts for the outrage he caused with his "joke" about Jeff Sessions earlier this week.
As the Alabama Senator began his Tuesday confirmation hearing for Attorney General, Madison issued a now-deleted tweet saying that Sessions kidnapped his Asian granddaughter in order to use her as a political "prop."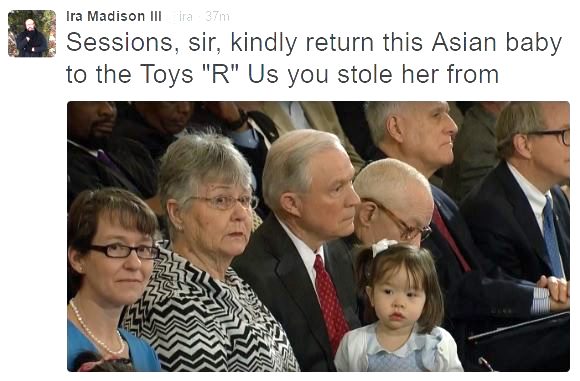 Madison was pummeled from both political sides over the last few days, and on Thursday, he released a statement on Medium to address the outrage. Madison wrote that he tends to be "satirical" in his work, and he offered an apology for putting Sessions family "in the crossfire" with his "provocative joke."
Madison went on to say that he was sorry that his tweets distracted people from holding Sessions accountable to concerns about his track record with civil rights and race issues. Madison elaborated by writing about how Sessions was once denied a federal judgeship due to his "racist" statements and behavior.
"Going forward, we cannot be distracted from Sessions' history, the histories of many of the men and women Trump wishes to appoint to his administration, or the online rhetoric designed to shut down debate and intimidate and terrify with violent threats and fear of doxxing. This is indicative of life on the internet for many endangered and marginalized groups right now and we must be vigilant. My writing, in part, will always be devoted to justice and I look forward to seeking it out wherever I can in the next four years and beyond."
[Image via screengrab]
— —
>> Follow Ken Meyer (@KenMeyer91) on Twitter
Have a tip we should know? tips@mediaite.com