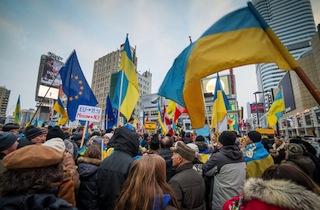 Every a.m., Mediaite publishes a primer of what the interweb machine is writing, talking, tweeting, and blogging about, so that you may fool friends and family into thinking you are a trove of information and insight. Today: everything you need to know about the situation in Ukraine, from the Crimean parliament's vote to join Russia to Henry Kissinger's endgame projections.

"Obama Signs Order Declaring Ukraine Crisis an 'Extraordinary Threat' to National Security" (Noah Rothman, Mediaite)
The U.S. announced Thursday morning it would move to suspend visas of Russian and Crimean figures deemed dangerous to Ukraine, the first of many actions the U.S. and the European powers hope will isolate Russia and pressure Vladimir Putin to withdraw his forces from the Crimean peninsula. Up next: freezing Russian assets and withdrawing from trade talks.
"Crimea Parliament Asks to Join Russia" (BBC)
The Crimean parliament voted to Thursday to join the Russian Federation. If Russia agrees, a March 16 referendum will ask voters if they want to remain with Ukraine or join Russia. Crimea comprises a large Russian-speaking population with strong cultural and historical ties to Russia, but has been part of the Ukraine, with greater or lesser autonomy, since the middle of the Cold War.
"EU Offers Ukraine $15 bln, But Help Hinges on IMF Deal" (Luke Baker, Reuters)
The European Union stepped up late Wednesday with a $15 billion aid package—the same amount that then-President Viktor Yanukovych rejected from the EU in his turn toward Russia, the catalyst for the crisis. The EU is also looking on ways to supply Ukraine with gas, so as to decrease the country's dependence on Russia's resources.
"European Observers Barred from Entering Crimea" (Ted Regencia, al Jazeera)
Meanwhile, al Jazeera is reporting that military observers from the Organization for Security and Co-operation in Europe were barred from entering the Crimea. The OSCE is seen by many as a non-violent out for Putin, if he chooses to take it.
"How the Ukraine Crisis Ends" (Henry Kissinger, Washington Post)
Kissinger reminds you that Putin thinks within the spectrum of Russian history, not global progress, and that anybody dealing with him needs to understand, along with the fact that Ukraine and Russia are far too linked to be as separate as some want them to be. (Kissinger opposes Ukraine's joining NATO).
Also, behold the most Kissingerian sentence ever: "The test is not absolute satisfaction but balanced dissatisfaction." Like a diamond, that sentence is.
"Crisis in Ukraine? Blame Obama!" (E.J. Dionne, Washington Post)
The always-rewarding E.J. Dionne finds the gulf between "politics stops at the water's edge" and Obama derangement syndrome:
"Our freedom to oppose a president whenever we choose is precious and differentiates us from, say, the citizens of Vladimir Putin's Russia. We forget too easily that dissent, even in wartime, is an American tradition, from the deep divisions over the War of 1812 and Abraham Lincoln's sharp critique of the Mexican War all the way through Vietnam and Iraq.

"But these debates involved matters of principle. What's strange about the response to Putin's grab of Crimea is how eager Republicans are to blame Russian aggression on past Obama failures — even as Obama proposes to follow policies on Ukraine that they are themselves prescribing. To paraphrase the late Jeane Kirkpatrick, they blame Obama first."
Read the whole etc.
[Image via Canadapanda / Shutterstock.com]
——
>> Follow Evan McMurry (@evanmcmurry) on Twitter
Have a tip we should know? tips@mediaite.com