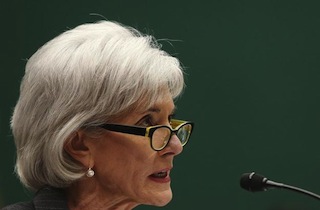 Every a.m., Mediaite publishes a primer of what the interweb machine is writing, talking, tweeting, and blogging about, so that you may fool friends and family into thinking you are a trove of information and insight. Today: assessing the legacy of outgoing Health and Human Services Secretary Kathleen Sebelius, and how the west plans to react to the latest Kremlin-backed chaos in eastern Ukraine.

Obama Administration Preps New Sanctions Against Russia (Josh Rogin, Daily Beast)
The Daily Beast's Josh Rogin reports that the separatist uprisings in eastern Ukraine, which god and everybody believes to be the work of Moscow, has definitely caught the White House's attention, but there is little consensus, both within the administration and between the U.S. and Europe, as to what kind of sanctions are needed:
There is still some internal disagreement inside the Obama administration over whether to proceed with sanctions against broad sectors of the Russian economy or with more targeted sanctions against Russian politicians, oligarchs, and perhaps some of the institutions those politicians and oligarchs are connected to. So far, the U.S. has sanctioned 31 Russian individuals and one Russian bank. U.S. officials believe the sanctions against Putin's business associates have had some effect and could be expanded.

There is also still a gap between the American and European positions on how to punish Moscow financially.
"Can Burwell Avoid the Sebelius Trap?" (Sam Baker, National Journal)
Sam Baker has a clear-eyed recap of Sebelius' tenure, praising her ability to keep out of the anti-Obamacare scrum and focus on the complicated federal-state nexus of the law's implementation. However:
But the keep-your-head-down-until-it-works strategy, by definition, requires that it work. And in a very high-profile (albeit temporary) way, it didn't. The disastrous rollout of HealthCare.gov will define Sebelius' legacy just as much as the final enrollment statistics.

[snip] The White House says Sebelius made the decision to leave, and was not pushed out. Even so, the choice of her replacement—White House budget director Sylvia Mathews Burwell, is an acknowledgement of what HHS needs right now. They didn't want to offer specifics out of respect for the outgoing secretary, but former administration officials said HealthCare.gov was not an isolated lapse in management.
"Can Burwell Turn HHS Around?" (Elise Viebeck, The Hill)
The Hill's Elise Viebeck presents Burwell as the anti-Sebelius, a management whiz who lacks a deep background in health issues. Meanwhile, it an early contender for sports metaphor of the week, Chris LeHane, a Democratic strategist, compares the HHS to the 2012 Red Sox, which was mired in the doldrums under feckless manager Bobby Valentine before John Farrell turned them into efficient World Series winners. Who at HHS is drinking beer and eating fried chicken in the dugout?
"What Sebelius' Resignation Says About the Obamacare Debate" (Greg Sargent, Washington Post)
Greg Sargent captures the GOP's rhetorical scramble following the ACA's attainment of its enrollment goals and Sebelius' voluntary exit:
Now that the law has hit enrollment targets, and evidence comes in that it is for now on track, the Republican position is that the law is a failure even if it is more or less doing what it was designed to do — cover a lot more people. Indeed, one way to describe the GOP position is that Republicans think the law is an inherent failure precisely because it is doing what it was designed to do.
RELATED: Kathleen Sebelius' Quiet Victory Lap
[Image via Gary Cameron / Reuters]
——
>> Follow Evan McMurry (@evanmcmurry) on Twitter
Have a tip we should know? tips@mediaite.com