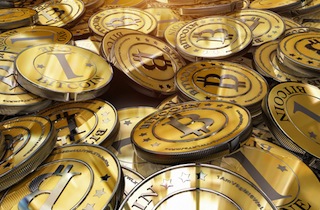 Every a.m., Mediaite publishes a primer of what the interweb machine is writing, talking, tweeting, and blogging about, so that you may fool friends and family into thinking you are a trove of information and insight. Today: Bitcoin is having a bad few days/weeks/months, inside Jerry Brown's plan to remake California's water supply, and the continuing debate over the listicle-ization of global news.

"Bitcoin Exchange Mt. Gox Disappears in Blow to Virtual Currency" (Ruairidh Villar and Sophie Knight, Reuters)
This was just a matter of time: "Mt. Gox, once the world's biggest bitcoin exchange, looked to have essentially disappeared on Tuesday, with its website down, its founder unaccounted for and a Tokyo office empty bar a handful of protesters saying they had lost money investing in the virtual currency."
"The Great Hiccup: Bitcoin is Growing Too Fast for its Technology to Keep Up" (Economist)
This, too, was just a matter of time: "With Bitcoin, an online 'cryptocurrency,' a fairly simple flaw seems to have cost $5.3 billion. That is how much the value of all of the Bitcoin in the world has fallen over the past two weeks, after a bug caused several Bitcoin exchanges to halt withdrawals temporarily."
Mt. Gox was unprepared for the security lapse, potentially one of the reasons behind its sudden disappearance.
"American Aqueduct: The Great California Water Saga" (Alexis Madrigal, Atlantic)
Madrigal has a thoroughly-reported piece on Governor Jerry Brown's $25 billion water-transfer project. "It is an audacious plan," Madrigal writes, "one that seems to come from another era, where governments were more ambitious in their transformation of the natural world."
"Is It 'Too Trivial' for Complex Geopolitical Stories to Use the Same Techniques as for Horses That Look Like Miley Cyrus?" (Emily Bell, Guardian)
Bell tackles Sarah Kendzior's piece in POLITICO Magazine last week that argued the listicle-ization of news was decontextualizing situations like the one in Ukraine. Bell basically takes Kendzior's comment about BuzzFeed et al "dumbing up" global news at face value:
Engagement with Ukrainian politics might begin and end with a "disaster porn" slideshow nine times out of 10, but what of the tenth individual who goes on to read more? For younger audiences or those disengaged from the mainstream media, one thing is sure: that the exploration of an alien topic will very rarely start with a 5,000-word article in Foreign Policy.
[Image via screengrab]
——
>> Follow Evan McMurry (@evanmcmurry) on Twitter
Have a tip we should know? tips@mediaite.com