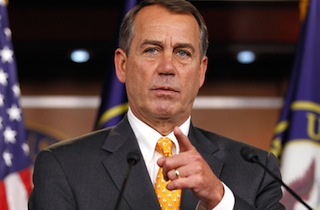 Every a.m., Mediaite publishes a primer of what the interweb machine is writing, talking, tweeting, and blogging about, so that you may fool friends and family into thinking you are a trove of information and insight. Today: the Obama/O'Reilly interview was softball; congressional aides are turning into lobbyists faster than the law is supposed to allow; on the ground with Vladimir Putin; and more.

"Will Immigration Reform Be John Boehner's Legacy?" (John Avlon, Daily Beast)
A memo quietly released from Speaker John Boehner's (R-OH) office last week signalled even more of a step in the direction of immigration reform, which is again emerging as the principal political effort of the year. John Avlon sees it not only as a fight for immigration reform, but also the moment in which Boehner definitely throws off the yoke of the tea party that has hindered his speakership:
What's changed is that Boehner and other members of the Republican leadership increasingly recognize that they—and the country—cannot be held hostage by the impractical ideological fervor of 50 or so House radicals and their enablers among the fundraising-racket activist class. The choice is between governing and grandstanding, leaving a constructive legacy that will lead to long-term political gains or giving in to the fetid heat of those folks who would ruin if they cannot rule.
"Bill O'Reilly Is to Journalism What the WWF Is to Fighting" (Conor Friedersdorf, Atlantic)
Conor Friedesrdorf condemns the O'Reilly/Obama interview as so much theater:
O'Reilly covers well-trod ground less sure-footedly than many who've gone before him, trots out a few right-wing theories that even he won't put his name behind, and produces an interview that serves his interests and Obama's interests just fine, but shortchanges everyone who has an interest in more information. Among hard core conservatives, O'Reilly gets to appear as if he has meaningfully probed scandals that would bring down the president if only the truth were known. To everyone else, Obama gets to appear as if those challenging his leadership are nothing but a bunch of uninformed conspiracy theorists.
"Law Doesn't End Revolving Door on Capitol Hill" (Eric Lipton and Ben Protess, New York Times)
The New York Times takes a snapshot of how former congressional aides are leapfrogging a 2007 law attempting to limit the revolving door between Congress and lobbying firms:
Federal ethics rules are intended to limit lobbying by former senior officials within one year after they leave the government. Yet even after the ethics rules were revised in 2007 following a lobbying scandal, more than 1,650 congressional aides have registered to lobby within a year of leaving Capitol Hill, according to an analysis by The New York Times of data from LegiStorm, an online database that tracks congressional staff members and lobbying. At least half of those departing aides, the analysis shows, faced no restrictions at all.
Read the whole etc.
"The Loneliness of Vladimir Putin" (Julia Ioffe, The New Republic)
TNR's Julia Ioffe is a former Moscow correspondent, and writes with crisp detail of Russia during its anti-Putin protests and the narrowing vice on free speech ever since. Full of wonderfully-observed graphs like this one:
And then on September 24, 2011, at a convention of Putin's ruling United Russia Party, Medvedev—looking very much like a man who'd spent the night crying—mounted the podium and nominated Vladimir Putin to run for president. I was in the press section up by the rafters, and I remember being almost as stunned as Andrei Kolesnikov, who traveled around with Putin for one of Russia's biggest dailies. As I wrote at the time, Kolesnikov had not seen it coming and, despite his job—he was virtually Putin's hagiographer—it was clearly not welcome news. "This," he said faintly, "is for keeps."
"PSH, RIP" (Dana Stevens, Slate)
There are already a million Philip Seymour Hoffman remembrances out there, but Dana Stevens' is especially good:
His unusual actorly physiognomy—the ruddy, transparent skin, the bulky but far from graceless body, the beetling blond eyebrows—lent itself to all manner of physical and gestural shape-shifting. But he didn't transform in the manner of, say, a Christian Bale, by slimming down, bulking up, donning prostheses and voice filters, becoming "unrecognizable." Rather, he sculpted his characters from the pliant clay of the voice and body he already had, making himself lumbering and clumsy in one role, sinuous and self-contained in the next.
[Image via AP]
——
>> Follow Evan McMurry (@evanmcmurry) on Twitter
Have a tip we should know? tips@mediaite.com