National Review Urges Republicans To 'Reject A Hasty Marriage' To Newt Gingrich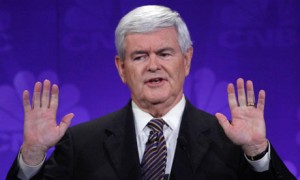 In an editorial released on Wednesday, influential conservative magazine the National Review spoke out against the nomination of Newt Gingrich, making several jabs at his rocky personal life. "At the moment we think it important to urge Republicans to have the good sense to reject a hasty marriage to Gingrich, which would risk dissolving in acrimony," the editorial said.
Noting that at a time of "uncharacteristic" unity, "we fear that to nominate former Speaker Newt Gingrich, the frontrunner in the polls, would be to blow this opportunity," the magazine observed. "We say that mindful of his opponents' imperfections — and of his own virtues, which have been on display during his amazing comeback."
The magazine pointed out that Gingrich's personal baggage would be toxic in a general election.
"Very few people with a personal history like his — two divorces, two marriages to former mistresses — have ever tried running for president. Gingrich himself has never run for a statewide office, let alone a national one, and has not run for anything since 1998. That year he was kicked out by his colleagues, the most conservative ones especially, who had lost confidence in him. During his time as Speaker, he was one of the most unpopular figures in public life. Just a few months ago his campaign seemed dead after a series of gaffes and resignations."
The National Review also opined that Republicans should stray from Texas Governor Rick Perry and Congressman Ron Paul:
"Gingrich is not the only candidate whom we believe conservatives should, regretfully, exclude from consideration for the presidency. Governor Perry has done an exemplary job in Texas but has seemed curiously and persistently unable to bring gravity to the national stage. Republican presidential candidates have not been known for their off-the-cuff eloquence in recent decades, but conservatism should not choose a standard-bearer who would have to spend much of his time untying his own tongue. Representative Bachmann's rise early in the primary season reflected the public's hunger for sincere conviction; her later descent, following among other things her casual repetition of false anti-vaccine rumors, its desire that conviction be married to judgment. Representative Paul's recent re-dabbling in vile conspiracy theories about September 11 are a reminder that the excesses of the movement he leads are actually its essence."
Have a tip we should know? tips@mediaite.com