Native American Explains Why He Walked Off Adam Sandler Set: 'Was a Total Disgrace'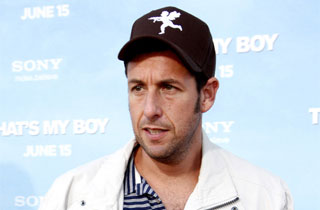 The Native American expert from that controversial Adam Sandler movie says that he walked off the set the moment he realized the film had no intention of respecting the Apache heritage he was supposedly hired to help maintain.
Bruce Klinekole, an Apache hired as the film's "Native American cultural consultant," was one of nearly a dozen actors who left the set of Sandler's new Netflix movie, The Ridiculous Six. Explaining his actions in an interview with Indian Country Today Media Network, Klinekole, who said he was hired specifically to work on Apache scenes, said that not only did the film openly mock Native American culture, they also repeatedly rebuffed him when he attempted to point out the insults.
"I wasn't allowed to talk to a producer and they wouldn't allow me to talk to anybody," Klinekole said. "They wouldn't let me do anything. Nothing."
According to Klinekole, many of the changes were subtle, though blatant enough to anyone raised Apache:
"Males were dressed in buckskin, which is not Apache at all. They were fixing up their hair into braids and Apache do not wear their hair in braids—It is straight and we wear our hair in a hat or with a headband. Some of the men were wearing feathers and Apaches do not wear feathers at all."

"The ladies were also in buckskin and were wearing boots that looked like they were purchased from the curio shops called 'The Running Indian.' They were wearing chokers. I was kind of overwhelmed, and I said, 'What is going on here?'"
He also noted that a tipi constructed for a wedding scene was completely sacrilegious, the equivalent of putting a disco ball in the Sistine Chapel:
When I saw the tipi, they not only had a front door, but they also had a back door. I said, 'What? What is this back door stuff?' They also had flowers and vines and stuff all over the tipi and they had fake eagle feathers on each one of the poles. I said, 'What is going on here?'"

"I talked to the guy who was designing this, and asked 'Who told you to do this?'" Klinekole said. "He said he had been to sweats, and this is not how a tipi should look, and I said 'You're right.' He said, 'I'm just going by what they told me to do.' I told him, 'this is a total disgrace.'"
Most importantly, he had objections to the names of two of the female characters in the film: Beaver's Breath and Wears-No-Bra. "We would never ever call women by those names. It was a total disgrace."
[Image via Tinseltown / Shutterstock.com]
— —
>> Follow Tina Nguyen (@Tina_Nguyen) on Twitter
Have a tip we should know? [email protected]