NBC Exec Dick Ebersol Calls Conan "Failure," "Gutless" To Blame Leno (Update)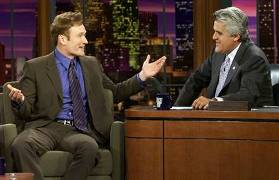 In a surprisingly harsh and candid attack on Conan O'Brien, Chairman of NBCU Sports Dick Ebersol told the New York Times' Bill Carter O'Brien was "gutless" to blame Jay Leno, and called him a "failure."
It's pure spin, of course, that contradicts the actual reason for these immediate changes. But O'Brien's almost out the door, so apparently it's time to kick him on the way.
Carter writes that Ebersol said "the reason for Mr. Leno's return to NBC's late-night roster after a short stint in prime time this season was a simple one: disappointing ratings for Conan O'Brien's 'Tonight Show.'"
Ebersol said of O'Brien's jokes this week that it was "chicken-hearted and gutless to blame a guy you couldn't beat in the ratings," and "what this is really all about is an astounding failure by Conan."
Carter gets close to calling BS, but then lets Ebersol spin out of it:
They have previously defended the performance of the show, saying seven months was not a fair shot for Mr. O'Brien to hone his comedic voice at the earlier hour especially in the face of reduced audiences for Mr. Leno's 10 p.m. show and the late local newscasts that followed it.

Mr. Ebersol labeled that a "specious argument," saying that for much of the last five years, Mr. Leno had much lower lead-in audiences than Mr. Letterman got at CBS and yet he always won in the ratings.
So let's get this clear – it is a "specious argument" to say this is all happening because the affiliates are mad? Ok, Dick. But here's where that theory goes wrong:
According to the initial NYT story, also conveniently written by Bill Carter, here's the reason for the Leno move:
The late-night discussions at NBC are directly related to pressure that has been brought on NBC by its affiliated stations, which have seen ratings for their 11 p.m. local newscasts plummet this television season because of much-weakened lead-in audiences from the network in the 10 p.m. hour.
Later that day, to Bill Carter (again), NBC called O'Brien "a valued part of our late-night lineup, as he has been for more than 16 years, and is one of the most respected entertainers on television." Then there was the announcement at TCA by Jeff Zucker, making the Leno move official. Here's his reason: "While it was performing at acceptable levels for the network, it did not meet our affiliates needs, and we realized we had to make a change."
But Ebersol ignores all that. No, in his mind, "we bet on the wrong guy." Obviously, this isn't what happened. While Conan's ratings were lower than Jay's, there was no immediate need to make an 11:30 switch. Instead, while Leno's ratings were holding at 10pm around where NBC had expected, the affiliates were losing money, and complaining, far more than NBC had anticipated. Some were considering dropping the show altogether. Ahead of the affiliate meeting later this month, and ahead of Ebersol's Olympics taking place next month, they felt they had to make a 10pm move. And yes, they essentially chose to keep Leno over Conan.
This is fine. Ebersol's an NBC exec, he has a late night pedigree (wonder what Lorne Michaels thinks of his fellow SNL creator throwing his guy Conan under the bus?), and he's allowed, or even expected, to spin. But Bill Carter: you're a reporter, so be a reporter. You know this isn't true – you've written about it several times. But you're letting NBC use you and the New York Times to further a storyline they'd like out there as Conan continues to bash them publicly and many continue to join Team Conan and call NBC out.
> Update: Team Conan responds to TheWrap.com: "This is the essence of NBC's problems. Conan O'Brien is losing his job because he didn't take the comedy notes of a 62-year-old sports producer."
Meanwhile Letterman may respond directly to Ebersol, after Ebersol called it "professional jealousy" to see the jokes being made by Letterman and others.
• Marketwatch's Jon Friedman asks, "Why in the world is Zucker still running NBC Universal?"
—–
» Follow Steve Krakauer on Twitter
Have a tip we should know? tips@mediaite.com