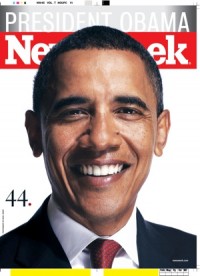 I think this can be considered the magazine coup of the decade — thus far. Newsweek has announced that President Obama will pen next week's cover story on Haiti for the magazine. According to a report in the WSJ, all Newsweek editor Jon Meacham had to do to get the big get was ask:
Newsweek was readying a story about the Google-China row when the earthquake hit. Editor Jon Meacham scrapped his plans and hit the phones in search of the highest authority he could find to weigh in, according to a person familiar with the matter. He reached David Axelrod, senior adviser to Obama, who asked his boss if he was game.
Without question this is a huge score for Newsweek, which has spent a great deal of time and money overhauling itself in the last six months. Moreover, it soundly trumps Time's get this week of President Clinton, who penned a piece about Haiti for the weekly, though not the cover piece. Take that!
But I think there is something else a play here too. President Obama intends to own this moment. In the last few days it has become quite clear that Obama is determined to use the Haiti earthquake to establish himself as a president who is able to handle emergencies quickly and effectively, especially in light of the criticisms that followed the Christmas day attack. The most common comparison being used to describe Haiti is Katrina and one gets the impression that Obama to is hoping the country too will see the difference between his response and President Bush's (or the lack thereof) during Katrina. The Newsweek cover is just the latest ingenious way for him to hammer that home.
Have a tip we should know? tips@mediaite.com