NBC Reporter Reveals Electoral Flaw in Obamacare Fix: Dems Have to Campaign on 'Trust Obama'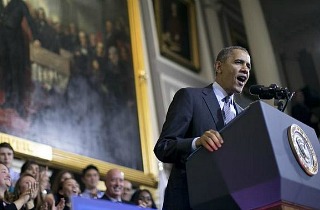 Make no mistake, President Barack Obama is announcing an administrative fix to the Affordable Care Act to allow individuals losing their insurance to keep their old plans into 2014 as a result of the collapse of his and Democratic politician's support in the polls. This is a political dilemma and the president is offering a political fix. There is just one problem, as identified by NBC News reporter Kasie Hunt: Democrats do not get to campaign on anything beyond saying they put their trust in a president. It's a level of trust in the president that the public does not share.

"This administrative fix means Dems are still left with message, 'trust Obama,' [instead of], 'I voted to fix it,'" Hunt observed.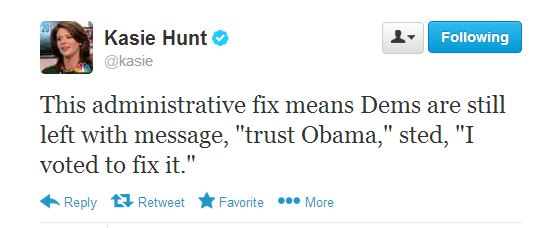 She's correct. Democrats would much rather be able to campaign on having voted for a fix than campaigning on the word of an increasingly unpopular president.
What's more, according to recent polling, voters do not trust Obama. 52 percent of those surveyed in a recent Quinnipiac University poll said that they do not believe the president is trustworthy. A majority told pollsters in a recent Fox News survey that Obama "knowingly lied" when he repeatedly assured voters that they could keep their health care plans if they liked them. Only 40 percent said that he did not.
"Trust Obama" is not a message Democrats will seek to campaign on. Particularly when those who will be able to again sign up for their cancelled health plans, though at greater cost than they previously paid, are only likely to be able to keep them through March 31, 2014.
Roll Call's Emma Dumain reported on Thursday that the so-called fix to the ACA is anything but:
According to a source in the room at the closed-door whip meeting, Rep. Jerrod Nadler, D-N.Y., wondered whether Miller's proposal was the right one, given that a short-term fix could put members back in the same place on March 31 as they are today.
The president may be able to get Democrats to stay on the reservation and not support a GOP fix to the ACA's disastrous implementation, but their relief will be short lived. It's a matter of weeks before the voters realize that this "fix" was no fix at all.
[Photo via Boston Globe/AP]
— —
> >Follow Noah Rothman (@NoahCRothman) on Twitter
This is an opinion piece. The views expressed in this article are those of just the author.