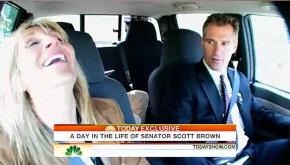 NBC's Today show correspondent Jamie Gangel got to spend a day with Sen. Scott Brown – I know right?! – and she totally made the most of it. They drove around in his famous truck, he winked at her. Honestly, one of those famous, sexy Scott Brown winks.
He's just a dreamboat and Jamie Gangel is your dreamboat captain.
"From his Cosmo centerfold to being spoofed on Saturday Night Life, Scott Brown is getting used to being in the spotlight," it begins. What did we learn?
• He's still that lovable every man we met in the campaign: Here's Scott Brown running! Here he is picking up his laundry! Now he's buying a bagel!
• Oh, that truck: Gangel gets to ride in the truck. Why does he still have it though? "It's the only vehicle I have," he says. "I mean, this isn't a joke." But don't tell Gangel that – she thinks the whole thing is HILARIOUS! "I live in it I sleep in it, it's trashed," says Brown.
• When Scott Brown gets serious he's still dreamy: There's this exchange about health care:
Gangel: In the end Obama won, you lost. Were you angry about that vote?
Brown: First of all I think that's an improper characterization, Obama won, I lost…
Gangel: (joyful laughter)
Brown: The bottom line is there are some very serious problems with the bill.
• He thinks about winks: "I think about it all the time," he said of the SNL wink. "I think about going up to everybody and going…" Then he winks, a sound effect bell is rung and Gangel giggles.
• He's not giving up on this basketball thing: They spend some time talking about the basketball game he wants to play with Pres. Obama. "That basketball game could come sooner rather than later," says Gangel. Apparently Obama called him from Air Force One to lobby him on immigration. Even Obama wants him some Scott Brown.
• He's "the new star of the Republican party": At least according to Gangel.
If you haven't seen it yet, watch below. Or you can see it on MSNBC, where it has replayed throughout the day (and in Jamie Gangel's dreams):


—–
» Follow Steve Krakauer on Twitter
Have a tip we should know? tips@mediaite.com