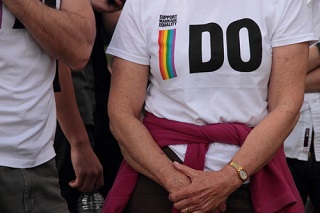 Despite Republican Governor Pat McCrory's veto, North Carolina's own Religious Freedom law passed on Thursday after the state House voted in the majority to override the bill's previous "on hold" state. The Senate did the same last week.
According to the Associated Press, the law will let magistrates and deed workers who oversee the state's marriage licensing process refrain from performing all marriages if they have a "sincerely held religious objection."
The law specifically mandates that state workers who object on religious grounds have to stop performing their marriage duties for same-sex and heterosexual couples alike "for at least six months." So it's not just a matter of allowing state workers to not marry applications because they disagree with their sexual orientation — it's an across-the-board distinction. If you don't agree with gay marriage on religious grounds, then you have to step away from the process altogether. In such instances, other elected officials without objects will step in.
North Carolina's Religious Freedom law comes on the heels of similar legislative attempts in Indiana and Arkansas, and stems from the state's own same-sex marriage ban, which was subsequently overturned in federal court and denied appeal by the Supreme Court.
McCrory stands by his decision to veto the bill despite his party affiliation and state opposition to same-sex marriage. He did so on legal — and not religious or social — grounds, when he wrote in his May 28 veto: "No public official who voluntarily swears to support and defend the Constitution and to discharge all duties of their office should be exempt from upholding that oath."
[h/t Talking Points Memo]
[Image via Shutterstock.com]
— —
>> Follow Andrew Husband (@AndrewHusband) on Twitter
Have a tip we should know? tips@mediaite.com