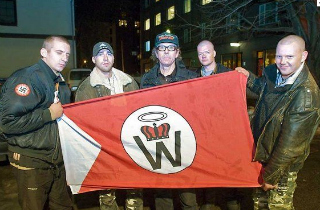 Earlier this year, we brought you the story of Craig Cobb a white supremacist determined to create a Neo-Nazi enclave out of the small town of Leith, North Dakota. After a months-long battle with local residents over the fate of the town, it appears as though Cobb's plans have been foiled by local zoning ordinances.
Within the last few years, the 61-year-old man bought several plots of land in Leith — a town of only 19 residents — with the hopes of having "like-minded people" move in with him, take over the local government, and help transform the town into a white supremacist haven.
"Imagine strolling over to your neighbors to discuss world politics with nearly all like-minded volk," he wrote back then. "[W]e could declare a Mexican illegal invaders and Israeli Mossad/IDF spies no-go zone. If leftist journalists or antis come and try to make trouble, they just might break one of our local ordinances and would have to be arrested by our town constable."
After a few months, Cobb saw a few like-minded "volk" join his cause, starting protests in Leith and camping out on his property. But much of his property contains abandoned buildings, has no running water, and uses an old outhouse. Enter an opportunity for local government to put a stop to his plans:
The new ordinances will require Cobb to put water and sewer into his house, where three other white male supremacists and two young children are also living with space heaters and no working furnace.

The city approved the second reading of a moratorium that prevents any new building until planning and zoning is put into place. It held first readings on the adoption of a uniform building code, on a requirement that residences must have water and sewer and an ordinance that prevents tents and campers from being on a lot for more than 10 consecutive days.

Under the ordinance, anyone without water and sewer will have 30 days to come into compliance, or face fines or possible condemnation.
Naturally, Cobb is displeased with the outcome: "Why now? Is it a wonderful coincidence that the moment I show up these are necessary?" he told the Bismarck Tribune. "It's patently unfair."
Cobb called Leith's residents "evil and nasty," without a hint of irony. He also suggested that when he does take over the small town, he will rename it "Village of the Damned."
Despite the ordinance's likely success in squashing any mass influx of white supremacists, Councilman Lee Cook said "We're not going to let our guard down. This is just the beginning."
Cobb, however, has transferred all his property over to his "religion" called the Cathedral of Creativity. If the town wants to take legal action against him, the white supremacist said, they'll have to sue his religion.
[h/t Bismarck Tribune via Raw Story]
— —
>> Follow Andrew Kirell (@AndrewKirell) on Twitter
Have a tip we should know? tips@mediaite.com