Nerd Prom Documentary: A Much-Needed Flogging of Washington's Narcissistic Orgy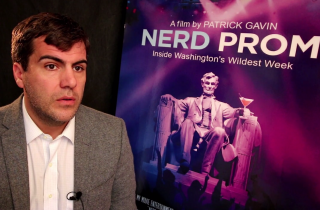 Tomorrow, hundreds of journalists, lobbyists, staffers, flacks, and celebrities will flock to D.C. for the annual White House Correspondents Dinner. Then they'll flock to at least three of a few dozen afterparties, pushing through the fatigue of a dozen pre-parties that took place in the days before the actual dinner. Everything will be sponsored by a corporation, or a media outlet — sometimes both. And everyone will be in love with themselves.

This is the setting of Nerd Prom, a wry, cinematic behind-the-scene look into what journalist and director Patrick Gavin calls "Washington's worst week."
Gavin, who used to cover the annual dinner and its celebrity whirlwind for Politico, quit his job as a reporter in order to freely make the film — mostly because it would have been impossible for him to critically cover events thrown by his own employers — and came away with a work depicting the week as Washington's version of Mardi Gras, if Mardi Gras was ostensibly about the celebration of the free press, and if its main participants, from journalists to the comedians to the President himself, could barely tolerate Mardi Gras.
Instead, as Patrick told us in an interview, "it's become the single best opportunity for one-stop shopping in this town, if you're looking to lobby, to influence, to brand yourself, to establish your rank in the pecking order of Washington life." In short, as the film argues, it's Washington's celebration of everything Americans hate about Washington.
The footage Gavin gets, from the debate over who gets invites to what, to the actual party conglomerate who organizes nearly every WHCD-related event (appropriately named Syzygy Events), is a direct contrast to the fluorescent-lit converted swimming pool that is the Brady Press Briefing Room. A litany of celebrity guests who can barely name an actual White House Correspondent. The entire banquet hall chattering through the scholarship presentation — ostensibly the entire point of the dinner — and Mediaite alumnus Tommy Christopher as a living, breathing White House Correspondent who sadly gets the shaft from people more interested in glad-handling and less interested in meeting an actual journalist. ("He was game for it," Gavin laughed in an interview.)
Is it an economic behemoth? Sure — at one point, a D.C. councilmember estimated that it added over a billion dollars to the District's economy, though Gavin's rightfully skeptical of that number. That said, the amount of revenue generated by all the parties associated with the dinner — and the costs of people getting gussied up — could easily pay for dozens of journalism scholarships.
Gavin was quick to point out that, on its own, the dinner and its associated parties, take by themselves, weren't evil. "The reality is that I don't have a problem with the dinner or the corporate sponsorship," he said. "The only thing that I don't like is its position on our totem pole of annual events. If this were number eight, and the first seven were more about what our town is supposed to be about — passing legislation, representing people — It's just the fact that this is literally our top event that really bugs me."
(And for the record, Gavin's favorite White House correspondent is LA Times reporter and WHCA president Christi Parsons.)
Watch the trailer for Nerd Prom below:
Watch an interview with journalist and director Patrick Gavin, below:
We will have full coverage of the White House Correspondents' Dinner here at Mediaite. Check this space.
[Image via Vimeo/screenshot]
— —
>> Follow Tina Nguyen (@Tina_Nguyen) on Twitter
Have a tip we should know? tips@mediaite.com