Never-Pregnant Chaffetz Dismisses Pay Gap: 'I Think' Companies Respect Women Who Give Birth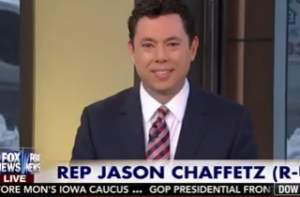 Today, Representative Jason Chaffetz appeared on Outnumbered on Fox News as the afternoon's #OneLuckyGuy. It is the seventh anniversary of the signing of the Lilly Ledbetter Act, which makes it easier for women to bring lawsuits in cases of pay discrimination. In honor of this, the White House announced today that there will be new rules mandating companies with over 100 employees must provide the federal government with data regarding what they pay each of their employees, along with demographic information. (President Barack Obama has been vocal about this issue before.)
The women of Outnumbered weren't thrilled by the idea of salaries being made public and searchable, but they turned to Chaffetz for his take.
"Of course women should be paid equally to men," he said feebly. "But you also have to go through performance evaluations and other types of things. I think companies — smart companies — will give credit to women who actually give birth and go and raise that child."
Regardless of what Chaffetz thinks companies will do, what companies actually do is well-documented. As much as he believes that "smart companies will give credit to women," they're simply not. While he went on to call child bearing a "valuable experience" that those smart companies will take into account, pundits on the same channel that hosts Outnumbered have argued the exact opposite, claiming women should be penalized for missing work to have children.
The pay gap is a contentious issue that has been fact-checked a number of times. Even Stacey Dash has offered one of her evergreen dissents on the topic. Although it is widely and frequently discussed by politicians like Chaffetz, it is never experienced by them. Of course he thinks smart companies "will" give credit to women; he also implied that he believes women aren't undergoing performance evaluations ("and other types of things").
In closing, if you're wondering where else you've heard about Chaffetz lately but can't quite remember, I can help. He is known for being ardently pro-life, which is a stance that some detractors classify as essentially being "pro-forced birth," and was the person in charge of questioning Cecile Richards during the House Oversight Committee's hearing investigating Planned Parenthood this past summer. One of the most infamous moments from the hearing involved him ruthlessly grilling the woman who oversees both the Planned Parenthood Action Fund and Federation about her about her salary, which he found "exorbitant."
[image via screengrab]
For more from Lindsey, follow her on Twitter.
Have a tip we should know? tips@mediaite.com