New Animated Series Reminds Voters the Only Jobs Crooked Hillary Clinton Created Are Jobs for the FBI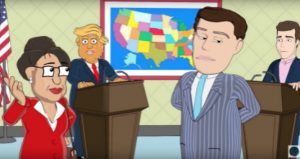 Do new developments in the FBI's investigation into Hillary Clinton's use of a private email server while Secretary of State have you wondering if Donald Trump is right that his rival is crooked? I mean, she's the first presidential candidate ever nominated to be under FBI investigation.
For undecided voters, a new animated series exposes the "never ending scandalabra" that has followed Hillary and her co-conspirator Bill Clinton for decades. 'The Kira Trilogy' is political satire that exposes corruption, as well as the media bias permeating the 2016 election.
Politicos of all stripes are featured in the series: Trump, Hillary, Bill, Michael Moore, Sarah Palin, Congresswoman and defrocked DNC Chairman Debbie Wasserman Schultz, and even Al Gore.
"Trump in Training," the first video of the series, is very prescient against the backdrop of the drip-drip-drip of the Hillary email scandal. It features Trump's former campaign manager Paul Manafort using an electric shock device to try to make Trump behave.
In an exchange with Manafort, Trump worries how he will explain having ties for his clothing line made in China.
"Relax, Hillary hasn't created a job in her entire life other than at the FBI, of course," Manafort chuckles along with Trump.
(And that's an understatement. The FBI's new investigation into Hillary's email server will require tons of agents to comb through 650,000 emails found on Rep. Anthony Weiner's laptop. Huma Abedin, longtime aide to Hillary and estranged wife of Weiner, also used the laptop to send emails to Hillary while she was Secretary of State. There could be thousands of relevant emails that the FBI will need to identify — then determine if they contained any classified information.)
"Yeah, the nerve of her challenging your business record. That's like Michael Moore teaching gymnastics to Simone Biles. Uh!" Manafort laughs.
"Unbelievable," brags Trump.
At this moment, the episode cuts to Biles practicing in front of an obnoxious Moore, who snorts through a megaphone.
"No, no, no, bottom one percent performance. Watch me, watch how I do it. Are you watching?" asks a rotund Moore, as he rolls across the floor.
"Yes, Michael, you absolutely nailed that landing," claps Hillary, holding up a 10.0 sign.
Trump turns to Manafort, adding that Hillary "hasn't worked in the private sector since the last days of disco." While funny, this exchange is true. Hillary Clinton has no free marketplace experience. She's never created a job in her entire political career.
Disguised as a Trump employee, Wasserman Schultz runs back to campaign headquarters.
"Trump just cracked the code on our propaganda campaign. They are going to remind voters that you have less business experience than Kim Kardashian," says an out of breath Wasserman Schultz.
"Uh, are you kidding me? You know we have never faced this line of attack. We have never faced this line of attacked," groans Hillary.
Hillary's correct, she's never faced any objective criticism on her record; but rather, she's received overt assistance from the media in her election bid. This, in spite of her "never-ending scandalabra."
'The Kira Trilogy's' second episode "What 'C' Stands For" is equally chuckle-worthy, featuring former staffer to President Bill Clinton and ABC News anchor George Stephanopoulos.
But the third episode, 'Looking Good Hillary,' scheduled for release November 2nd on www.kiramediausa.com, will expose another Clinton scandal. Featured in the short, Al Gore explains how Hillary made a fortune in 1978 with the help of Tyson's Chicken Jim Blair trading in RISKY agricultural commodities, known as cattle futures.
This last video showcases the lifelong corruption the Clintons seem very comfortable engaging in and getting away with. Kira Media, the creator of the series, explained that it produced two versions of episode three. One is "R-rated" and features Bill Clinton in a compromising position with a flight attendant. I enjoyed the show! Of course, I don't need convincing (or popcorn). Hillary's as fit to be president as much as Anthony Weiner should be CEO of the Girl Scouts.
Watch above, via Kira Media.
— —
Crystal Wright is author of the newly released book Con Job: How Democrats Gave Us Crime, Sanctuary Cities, Abortion Profiteering, and Racial Division. By day, Crystal is a communications consultant and editor and publisher of the blog Conservative Black Chick.
Follow Crystal Wright @GOPBlackChick on Twitter
— —
This is an opinion piece. The views expressed in this article are those of just the author.
This is an opinion piece. The views expressed in this article are those of just the author.