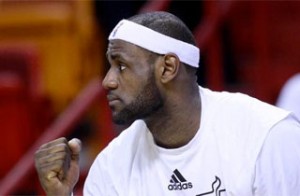 A new book featuring interviews with the principals offers an inside account of LeBron James's departure from the Hollywood behemoth Creative Artists Agency.
In the soon-to-be-released book called Powerhouse: The Untold Story of Hollywood's Creative Artists Agency — excerpted today by The New York Times — author James Andrew Miller chronicles how James got CAA to hire a teenage acquaintance of his from Cleveland named Rich Paul in 2010. Paul was shown the ropes by James's then-agent Leon Rose for two years, before Paul left to start his own company.
LeBron soon followed.
"Leaving CAA wasn't personal and had nothing to do with them," James said. "It didn't matter who was representing me, but when Rich was ready to start his own business, that's where I was going."
The reigning NBA-Finals MVP told Miller that Rose and CAA had done a fine job, but James simply wanted to support his teenage pal.
I went with Rich because I am very serious about building my community. When I was 20 years old, I fired my agent and turned the business over to a few guys I grew up with. I didn't do that so I could have my crew around. Nobody convinced me to put them on payroll. I did it because I wanted to build my community. I wanted my team to show young athletes that you can build businesses. And they earned it. That if your team works as hard off the court as you do on the court, great things can happen. A young black kid from Cleveland without a college degree can be as good, or even better, at being an agent as the guy who got his law degree from Harvard. But Rich worked for it. There was never a handout, and he's never rested. He grinded at CAA to learn the business. I watched him grind for years. And when he was ready to make the jump, I was 100 percent behind him.
Whatever James's motives, losing him was a crushing blow to CAA's sports division, which had only launched six years earlier. In Powerhouse, Miller writes:
Many competitors regarded, and still regard, that foray as a disaster, a loss leader, or both. Even inside CAA there was debate about whether the agency's move onto the playing fields of the world reflected strategic genius or hubristic disaster.
Miller, previously the co-author of high-profile oral histories on Saturday Night Live and ESPN, figures to make another splash with his inside-look at the storied Hollywood power. The book is set for release on Aug. 9. You can read more of the Times's excerpt here.
[image via Joe Skipper/Reuters]
—
Follow Joe DePaolo (@joe_depaolo) on Twitter
Have a tip we should know? tips@mediaite.com
Joe DePaolo - Senior Editor