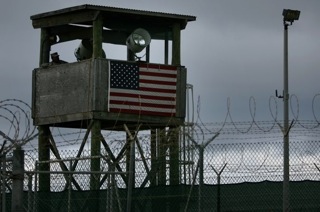 In the wake of the 9/11 attacks, the United States government, the media and the world became consumed with the whereabouts of anyone who might have been connected to the 9/11 attacks. It was a consumption that paid off when many of the so-called masterminds were captured or killed one by one in the months and years after the attacks. But the details of exactly what many of them were doing with their time and where they were doing it remained a public mystery until now, courtesy, of course, of Wikileaks.
Wikileaks, which has become the scourge of this administration by releasing hundreds of thousands of pages of classified documents, released this latest cache to various news outlets. It included information on almost all of the the 779 individuals who have been held at Guantanamo Bay, Cuba since 2002. The most fascinating details involve Osama Bin Laden, His deputy Ayman al-Zawahiri and some of the other top Al Qaeda leaders. Some of the highlights (via Washington Post):
– That the top Al Qaeda leaders were planning numerous other attacks in the months after the attacks but decisions about where to attack and who would be involved led to major in-fighting.
– When Bin Laden and Al-Zawahiri escaped from Tora Bora in December 2001, Bin Laden was broke and had to borrow $7,000.
– In those first post 9/11 months, Bin Laden traveled by car in Afghanistan, and gave out assignments for fear that he would be captured
– On 9/11 most of the Al Qaeda leaders were in Karachi, Pakistan watching television images of the World Trade Center attacks.
The documents also offer moment-by-moment details gathered from interviews with many of the Guantanamo detainees about Khalid Sheik Mohammed, Ramzi Binalshibh and other 9/11 plotters. While the administration won't be happy about the release of these documents and has already expressed dismay, they probably will not have anywhere near the sort of deleterious effect that the individual secret cables had on various diplomatic relationships.
Have a tip we should know? tips@mediaite.com