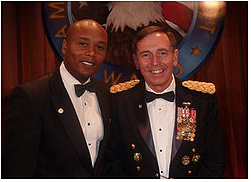 Talk about the party that never ends! Phew. Yesterday the Secret Service confirmed that there had indeed been a third "crasher,' in addition to the Salahis, at last year's White House state dinner. Though calling him a crasher seems a tad unfair since he was apparently brought along by the Indian delegation (the Indian prime minister being the reason for the dinner in the first place), and additionally did not show up with a reality film crew in tow.
The Secret Service has refused to identify the third party goer but the Washington Post is reporting he is Carlos Allen, a D.C. party promoter. Short version: Allen was apparently with some Indian businessmen before the dinner and was ferried along with them as well as some Indian officials to the White House after the Indian Embassy asked the State Department to provide transportation, something which the State Dept. is at pains to point out is not a usual service and is now "investigating." The Indian Embassy, meanwhile, is also denying that Allen was part of the delegation however "but the spokesman did not respond to requests for comment about how Allen got on the van or if the embassy requested that the State Department add the Indian CEOs to the trip."
Hmm, sounds like a lot of officials were inadvertently involved in allowing Allen into the party. Want to bet there are a dozen other similar stories dating back through the last two administrations of "uninvited" guests attending White House functions? Based on these details I would be there are. Meanwhile, if Allen did post pictures of himself at the event on his Facebook page (and apparently he does have a penchant for snapping himself with famous faces, that's him up top with General Patreus, though not at the state dinner) they were removed lickedy split once the Salahis hit the news cycle. Additionally he shows no sign of desiring the Salahi cable spotlight, though lord knows that is probably about to change.
Have a tip we should know? [email protected]