New Inflammatory Posts About Gays and Muslims From Joy Reid's Blog Unearthed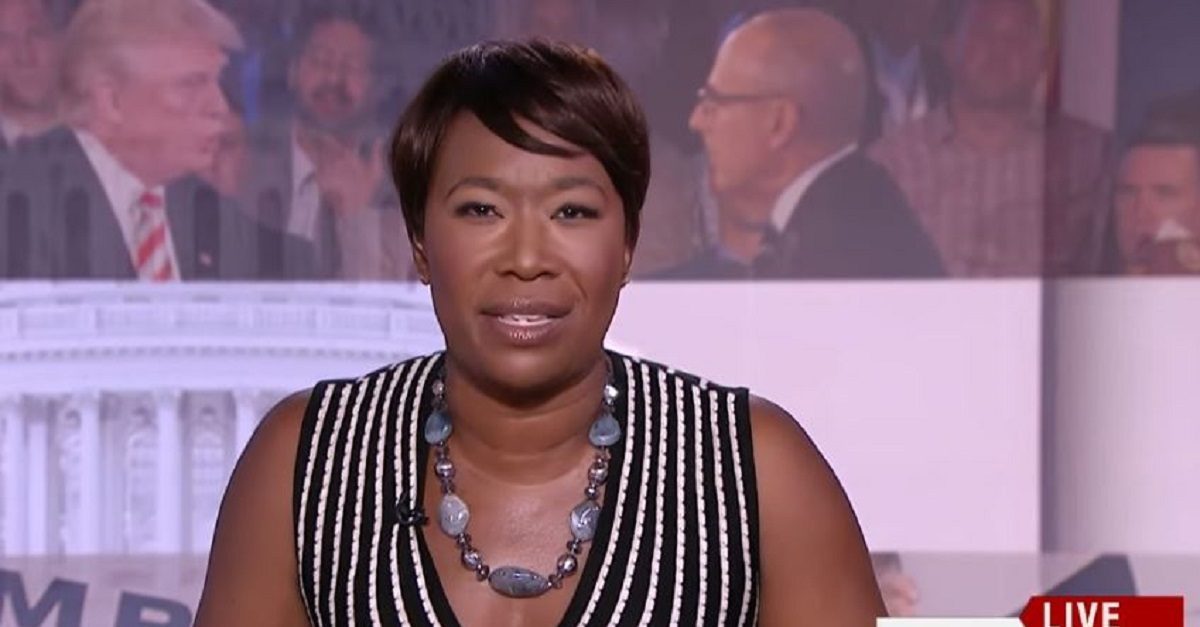 After Mediaite reported a number of anti-gay posts on MSNBC host Joy Reid's old blog, the pundit claimed that her website was hacked and the homophobic posts were fabricated. (Well, some, but not all; a few she has freely admitted to penning.)
Turns out there are more anti-gay posts — as well as inflammatory posts about Muslims — in addition to those originally reported by Mediaite.
The Washington Free Beacon's Alex Griswold unearthed a trove of content from the blog, archived by the Library of Congress, that was published under Reid's byline. These posts, from 2006, feature gay jokes about, among others, Senator Orrin Hatch (R-UT) and then yet-to-be-confirmed Supreme Court Justice Samuel Alito.
"Oh, look, Orrin Hatch is putting on his Supreme Court knee pads to save Alito," the author wrote during Alito's Senate hearing. "'Golly, you're really a swell guy. Can I be on top next time…?' Jeez…"
A half hour later, the author wrote: "Would somebody please get Orrin Hatch some mouthwash and a $20 bill…? He's got to be exhausted."
And then again when Hatch appeared on The Situation Room to discuss the confirmation hearing with Wolf Blitzer: "Orrin Hatch just told Wolf Blitzer on the Situation Room that Democrats on the judiciary committee were 'blown away' by Samuel Alito's 'magnificent' performance so far. Well Orrin, someone was 'blown' in that hearing… but it wasn't the Democrats. Mr. Alito — your cigarette, sir."
Hatch responded to the newly unearthed posts on Twitter:
Oh.

— Senator Hatch Office (@senorrinhatch) April 26, 2018
Other blog posts unearthed by Griswold tout offensive stereotypes of Muslims, claim that Islam is inherently unable to coexist with Western democratic values, and link to the Gateway Pundit, a far-right conspiracy website.
One post on Reid's blog states that "current iterations of Islam are largely incompatible with Western notions of free speech and expression, and thus, I'd say, with the Bushian dream of Western style democracy for all."
Another post contains an inflammatory quote about Muslims from a blog called Mark in Mexico, which she describes as "salient":
"My feeling is that the only reason that a world war between civilizations has not already broken out is that the vast majority of Muslims living in the world today are so desperately poor that they have the time, energy and resources for only the occasional burst of AK-47 fire into the air from the garbage and sewage laden streets outside of their mud huts. Give them resources and I fear that they will come after us everywhere that they can find us, which is to say everywhere."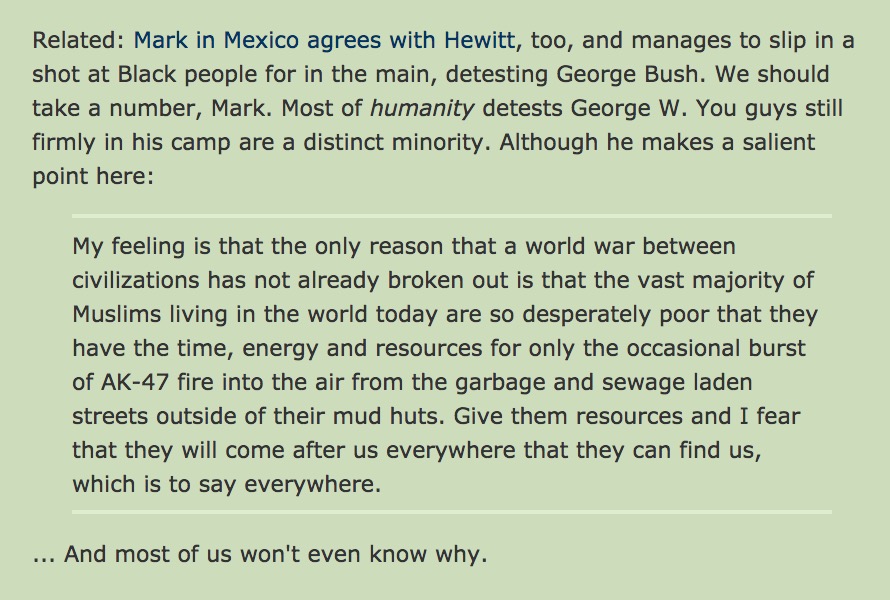 Both posts have been archived by the Library of Congress since 2006.
Reid first claimed to Mediaite that her blog was hacked, and that the anti-gay posts were "fabricated" in an effort to smear her character. Her lawyer says that an FBI investigation has been opened to look into the matter.
Reid's blog, which is now defunct, was removed from the Wayback Machine, an internet archiving service, thanks to an exclusion request added to the website. The Library of Congress, however, has a mirror of the Wayback Machine which displays a number of pages from the blog.
As Griswold notes, "The Library of Congress archived Reid's site on Feb. 7, 2006, meaning the hacker would have had to strike over a decade ago."
[image via screengrab]
Have a tip we should know? tips@mediaite.com