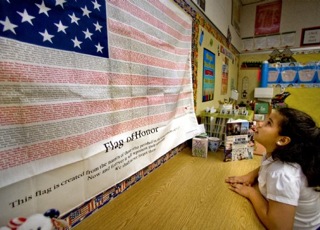 For those of us who will forever remember the day Al Qaeda fatally attacked the World Trade Center and the Pentagon, it is difficult to keep in mind that September 11, 2001 was nearly a decade ago– which puts a child born on that day in fourth grade. This has presented a challenge to many teachers who realize their students are not old enough to remember the attacks but don't quite know what to say about it. To solve the problem, New Jersey is set to adopt a curriculum that will teach September 11 and terrorism to K-12 students.
According to the Star-Ledger, a volunteer group comprised of families of the victims of September 11 called the 4 Action Initiative has compiled a curriculum they call "Learning from the Challenges of Our Times: Global Security, Terrorism and 9/11 in the Classroom." It will teach not just the history of the event, but will aim to teach tolerance for others and how to handle the threat of terrorism in the post-911 world:
The material includes lesson plans on teaching the events of that day itself, but also delves into topics ranging from the "Impact of Hateful Words," for elementary students to "What is Terrorism?" in middle school and "Reaction to and from the Muslim and Arab Communities" for high school students. Also included are lessons on "acts of kindness" that occurred on 9/11, and ideas for students to help their town, community and the world.
While the curriculum will not be mandated by the state, it is set to be released to teachers this week and has been well-received in pilot programs by elementary school teachers. Among those involved in its creation were former Gov. Thomas Kean and many teachers, some who also piloted it in class. While a 9/11 curriculum was tested in 2009 by seven states, it was far less comprehensive and provided fewer guidelines for teachers, and relied more on videos and other multimedia rather than traditional classroom teaching. Among the 60 classrooms in which it was implemented this year, it was considered a "phenomenal" success, and many teachers who were part of the pilot program tell the Star-Ledger they plan on using it again this year. It will be available online for free for teachers across the country to use after its official release this Thursday at Jersey City's Liberty Science Center.
[Photo via]
Have a tip we should know? tips@mediaite.com