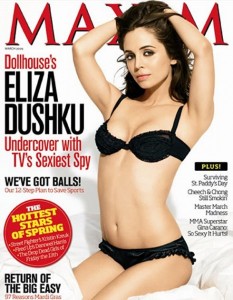 In a time when traditional print publications are folding or being significantly scaled down, Michael Rideout is doing something pretty daring. First, the former sales executive for Time Warner is launching a new media brand aimed at men between 25 and 34 years old called MadePossible, a package that contains a printed magazine, a corresponding website, and even an event marketing business. And second, he's hoping to sell this men's mag without using cleavage on the cover to draw in readers.
Called the "anti-Maxim" by Mike Shields at Mediaweek, MadePossible is meant to supply the manboys in its demographic with advice on career advancement, family, and finances, which Rideout feels isn't present in magazines like GQ or Esquire. And since he believes that "men brand themselves by the magazines they read," creating a new Renaissance Man means cutting out the photos of half naked models that divert attention from the real magazine content.
After pitching the idea of a "Barron's for young men" to publishers who wouldn't take the bait, Rideout eventually quit his job and took out his retirement savings to launch the brand himself. Earning back his nest egg will rely on advertisers like Ray-Ban and Bonobos – revenue is ad-based and content is free for subscribers of the magazine.
The decision to open a new publication in the age of the dying magazine is risky, let alone one that is geared towards young men without using the bodacious bust line gimmick to sell copies. But Rideout insists that "young men do read" and that they are more serious than the world gives them credit for.
So far, only a preliminary version of the web component containing the business plan has been opened, and the magazine is scheduled for release sometime in July, according to the Mediaweek article. However, skeptics are wondering if the brand will thrive, especially the writers at Jezebel who take special offense with the advertiser-centric business model.
Will young men be interested in a magazine without mammaries? The fate of MadePossible (and Michael Rideout's retirement fund) is riding on this very question.
Have a tip we should know? tips@mediaite.com