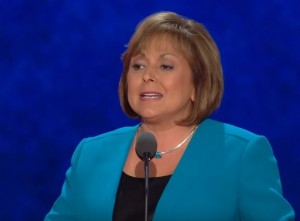 Republican New Mexico Gov. Susana Martinez told an emergency dispatcher to call off the police he sent to the hotel she was staying at in response to a noise complaint.
According to KRQE News 13, who obtained audio of the governor's conversation with the dispatcher and the original complaint, Martinez told Sgt. Anthony Tapia to "call them off." By "them," she meant the three police officers who responded to the noise complaint called against her.
This happened at 1:31 a.m. local time on Sunday at Eldorado Hotel & Spa in Santa Fe, where the governor held a staff party. The original complaint reported that the party was very loud, and that someone was throw bottles off of a balcony. Three officers were dispatched to investigate.
"Hi. This is Governor Susana Martinez," the governor says as the dispatcher asks how he can help. "Yes, tell me what the complaint is."

The dispatcher, unaware that the governor was at the hotel for a holiday staff party, seems confused by the fact that the governor is on the other end of the line. The conversation continues as the governor begins a several-minute-long effort to find out what room had been complaining about the noise from her fourth-floor room.
Throughout the call, which was transferred from a dispatcher to Sgt. Tapia, Gov. Martinez repeatedly tried to find out who had made the original complaint.
"I'm sorry, ma'am. Someone called us out there and we have to go," the dispatcher replies.

"Someone? Who is someone?" the governor demands.

For numerous public safety reasons, police dispatchers do not immediately give out information about people making complaints to the subject of the complaint.

"Why can you not?" the governor responds. "It's public record. Give it to me."
When neither the dispatcher nor Tapia would tell Martinez who complained, she then asked the hotel staff at the front desk.
"Tell me. What room number? So that… Are they on the fourth floor? … Next door? To our room?"

"They're in that area, yes," the attendant replies.

"That area? Are they next door?" the governor continues, "And I wanna know who they are."

Like the dispatcher, the attendant won't give up the information about the person complaining about the noise.

"Oh you can tell it to the police but they won't tell you … you won't tell me?" the governor says, then adds, "I'll get it from the cops."
In a statement by Martinez spokesperson Chris Sanchez, the governor expressed regret for "the way this situation was handled by her and her staff" and promised to address the matter later on Friday.
[h/t KRQE News 13]
[Image via screengrab]
— —
>> Follow Andrew Husband (@AndrewHusband) on Twitter
Have a tip we should know? tips@mediaite.com