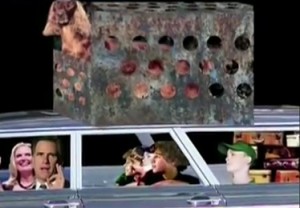 As if this presidential campaign hasn't already been ruff enough (sorry) on former Massachusetts Gov. Mitt Romney, his opponents have begun to exploit the tail (sorry) that has dogged (okay, I'm not really sorry) the candidate for years: Seamus The Dog's wild ride. However, despite multiple references to the incident by Obama campaign adviser David Axelrod and Santorum adviser/latter-day Robert DeNiro look-alike John Brabender, a new poll suggests that Seamus isn't costing Romney votes…yet.
According to a new survey from Democratic pollsters Public Policy Polling, Romney has a 20% approval rating for his treatment of dogs, versus 29% disapproval, but 51% of voters had no opinion, suggesting that Seamus' odyssey hasn't reached many of them.
From PPP's press release:
44% of voters have a favorable opinion of Barack Obama's treatment of dogs to 14% with an unfavorable one. Apparently voters think he's taking good care of Bo. Asked who would be a better President for dogs, 37% of voters pick Obama to 21% for Romney with 42% not holding an opinion either way.

-68% of voters think it's inhumane to put your dog in a kennel on the roof of your car to only 14% who consider it humane. On this there's a bipartisan consensus- 74% of Democrats, 66% of independents, and 63% of Republicans think it's inhumane to strap the family dog to the top of the car.

-Whether this is really an issue that's going to hurt Mitt Romney in the campaign is a different question though. 55% of voters say it makes no difference to their vote, while 35% say it makes them less likely to vote for Romney and 7% more likely.

Most of the people who say the Seamus incident makes them less inclined to vote for Romney aren't voting for him anyway though. Among Romney voters just 17% say it makes them less likely to vote for him to 75% who say it doesn't make a difference and 6% who actually consider it a positive. Among undecideds 29% say it makes them less likely to vote Romney, 14% more likely, and 56% say it doesn't make a difference.
Right now, it appears that Romney's best friend is the fact that this story hasn't achieved the kind of ubiquity that would let it make a real dent in his support. Shaving off 29% of undecided voters is nothing to lift your leg at. As the Republican primary winds down, and the general election begins, Seamus could become one of those deadly peripheral issues that make a difference, especially if things like this Thom Hartmann-produced tweak go viral:
Hartmann's "campaign ad" relies on a new twist in Seamus-gate lore: the idea that the poor dog, after the 1,200 mile, brown-vapor-trail-fueled road trip to Canada, ran off and was never heard from again. That facet of the story is based on an anonymous report of an off-the-record chat between reporters and two of Romney's sons. Before that, the official story was, let's say, oddly familiar:
So what happened to the dearly departed Seamus? The dog, which had a penchant for wandering away from the Romneys' Boston home, ended up retiring to California with Romney's sister, Jane, who had space for him to roam freely.
Well, who among us hasn't had a family dog who went off to live on a farm, or someplace, where he can run free?
The truth is probably somewhere in the middle: at the end of that trip, maybe Seamus did head off into the Canadian wilderness to clear his mind, but eventually returned to live out his life frolicking with other dogs who "went upstate." While that single report isn't enough to rely on, the fact that the Romney campaign hasn't responded to questions about it, from the Politicker blog or from Mediaite, could give the story more legs than it otherwise might have.
Ordinarily, I would applaud voters for not basing their vote on a seemingly frivolous story like this, but what's most troubling here isn't just Seamus' ordeal, but the fact that Romney steadfastly defended it throughout the years. If you've never driven in a crate on the roof of a car, you might be forgiven for thinking a makeshift windshield would make it all okay. However, once it's pointed out to you, you have to be able to say, "Yeah, I guess that was doggone stupid."
Have a tip we should know? tips@mediaite.com