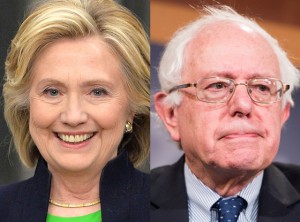 After a pretty massive defeat in the New Hampshire Democratic primary, former Secretary of State Hillary Clinton could use some good news, and she got a bunch of it on Wednesday. According to a new set of polls released by Public Policy Polling (PPP), Clinton leads Senator Bernie Sanders (I-VT) in 10 of 12 early March primary states, and in nine of those, she holds double-digit leads of anywhere from ten points (in Michigan) to 34 (in Mississippi and Georgia). Sanders leads only in his home state of Vermont and its neighbor, Massachusetts.
The firm also polled on a variety of issues, and found big advantages for Hillary on some, and mixed results on others:
One issue that's playing to Clinton's particular advantage is who people trust most to be Commander in Chief. She has at least a 31 point advantage over Sanders on that front in every state other than Vermont. Other issues she does particularly well on are women's issues where she has at least a 36 point advantage in every state other than Vermont and improving race relations where she likewise has a double digit advantage everywhere other than Senator Sanders' home state…

Sanders does better on the issues of who voters trust most to crack down on Wall Street and who they have more faith in to pursue policies that raise the incomes of average Americans. Voters trust Sanders more to crack down on Wall Street in 5 of the 12 states we polled and in the states where Clinton is trusted more on that question it's by a much more narrow margin than her overall lead. Sanders is trusted more to pursue policies that will raise the wealth of average Americans in 4 of the 12 states, and again in the states where Clinton still has an advantage on that question it's much more close than the overall horse race…
Public Policy Polling is a Democratic-leaning firm that, nevertheless, is known as much for its accuracy as for its occasionally cheeky poll questions, but Sanders supporters would also point out that thee polls were commissioned by American Family Voices, a PAC that was founded by several Clinton insiders, including James Carville. PPP would point out that their methodology and questions are transparent and accepted, but take these polls as you will.
This is an opinion piece. The views expressed in this article are those of just the author.