New Rick Santorum SuperPAC Ad Seems To Say Conservatives Can't Normally Be Trusted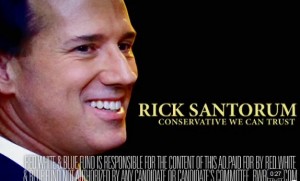 On the heels of his near-win in the Iowa Caucuses, GOP presidential candidate Rick Santorum is already looking past New Hampshire, to the South Carolina primary. According to ABC News, Santorum SuperPAC The Red, White, and Blue Fund has made a $190,000 ad buy in support of a campaign commercial with a tagline that might need some tweaking: "Rick Santorum: The Conservative We Can Trust."
From ABC News' The Note:
ABC News has learned that a SuperPAC which supports Rick Santorum, the Red, White and Blue Fund, is going up with TV ads in South Carolina. This will be the first time the SuperPAC is on the air in the "First-in-the-South" state. The total outlay is $190,000, according to people familiar with it and it will air in Greenville, Charleston and Columbia.
Aside from that unfortunate choice of the definite article, which seems to imply that conservatives, by default, can't be trusted, the ad reminds me a lot of Mitt Romney's first big "attack" ad against Newt Gingrich. That spot was a seemingly innocuous bit of gauzy happy-talk about Romney's family and faith, but was seen as a vicious attack on Gingrich's personal history.
Santorum's ad never mentions Romney, and similarly consists of some pretty cliche´"positive" messaging, but that tagline, "Rick Santorum: The Conservative We Can Trust," also comes off as a glaring attack on Mitt Romney and his propensity to flip like a meth addict's coin.
While he still trails significantly in New Hampshire, Santorum has passed Gingrich, and is right on Romney's heels, in the most recent South Carolina poll. His fundraising success since Iowa could spell real trouble for Romney in the weeks ahead.
Here's the ad, via YouTube:
Have a tip we should know? tips@mediaite.com