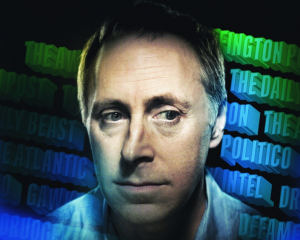 Move over, New York Times vs. Wall Street Journal: there's a new feud in town. Last night, a critical piece about Slate was published on the New York Observer's website, sparking a sniping match that might even be interesting to those who don't work in Manhattan's news industry.
Everything about the article, written by Nick Summers, is encapsulated in its unwieldy headline: Blank Slate: Jacob Weisberg Was a Web Pioneer. But He Doesn't Much Care for What Works on the Web Now. Can Slate Recover?
Summers's report isn't a hit piece—he makes sure to praise Slate's "consistently smart" content, which includes "unhysterical political analysis, Farhad Manjoo on iPhone stuff, the impish Explainer column, Doonesbury, TV dissections, [and] Jack Shafer's bile." Even so, it's pretty harsh on Slate's supposed lack of web-savvy:
Slate's founding date is also its biggest liability. If Slate invented blogging, it definitely didn't invent social media, distribution deals, verticals, the slide show, search-engine optimization or other technologies essential to succeeding as a Web publication today‹and can even be said to do most of those things poorly. On Twitter, @slate has 96,832 followers, fewer even than the musty New York Review of Books.

"Technologically, we've had a hard, hard decade," said David Plotz, Mr. Weisberg's protégé and the current editor of Slate. "Compared to our competitors, we're behind, not agile. We're used to a Web that's a little bit slower, a Web where there weren't so many great competitors as there are now."
Summers also slams Slate's unprofitable nature and its relative lack of growth. "The site's internal numbers show that page views for October were up just 6 percent, to 83.6 million, and unique visitors were down 21 percent — growing pains as the site weans itself from longtime traffic teat MSN.com and develops its own, more clicky readers," he writes. "Over the same time period, Gawker has more than doubled its audience, and the Huffington Post has a global readership roughly three times as large."
Weisberg himself struck back at Summers today when he sent his staff a memo about the article. Jim Romensko at Poynter Online got a hold of the email, which is just as harsh on Summers as Summers was on Weisberg:
You may have seen the story about Slate that's up on the New York Observer website today. I wanted to take a minute to respond, because while the facts in the article are mostly accurate, the thesis — that Slate's doing badly and that the Internet is passing us by — couldn't be farther off the mark. It is true, of course, that I'm gayer than Andrew Sullivan.

First, on the business side, we are going gangbusters. September was record revenue month for us. October looks to have been another. Slate is up 25% so far versus last year. With results like that, the Observer might have been able to keep Simon Doonan.

… What was most wrong with the piece was the notion that we're not focused on what works on the Internet in the way our younger competitors are. I talked to the author extensively about our new tech team, Slate Labs, our breakthroughs with long-form journalism on the web, the Frescas, the Hives, predictive polling, the excellence of our Twitter feed, and how we finally cracked the case on commenting. I'm afraid the nice young man had no idea what I was talking about. I told him that new competition is pushing us to innovate more quickly than we did in the years when we had a category largely to ourselves. He ignored all that, using our candor about past weaknesses against us and portraying us as not caring about SEO, aggregation, etc.

The piece is a good example of a kind of bad journalism we thankfully seldom see at Slate, which starts with a premise and ignores any evidence that doesn't support it. Please continue to prove it wrong.
The feud gets even thornier when Summers's history is taken into consideration. Before joining the staff of the Observer in October, Summers worked for Newsweek—which, until recently, was owned by The Washington Post Company, which also owns Slate. That means for years, Summers worked one floor away from Slate's staffers, and is likely friendly with some of them. (In fact, Summers and Slate reporter Christopher Beam, both alumni of Columbia University, started a blog called IvyGate together in 2006. Beam, however, is based in Washington D.C., not New York.) His negative article, then, must have seemed especially rough to his former colleagues.
Summers doesn't seem to have responded to Weisberg's takedown yet, though he did retweet Romenesko's tweet about his Poynter post. Feel lost in a hall of mirrors yet?
Update: Summers has written a response, in which he says again that Slate's "traffic momentum" isn't very impressive and directly contradicts points Weisberg made:
Here is that quote again, but with my recollection noted in brackets on each point. "I talked to the author extensively about our new tech team [I mentioned it in the piece], Slate Labs [I didn't write about this—and should have], our breakthroughs with long-form journalism on the web, the Frescas [I called these efforts a "runaway success"], the Hives [we did not discuss this], predictive polling [we did not discuss this], the excellence of our Twitter feed [we did not discuss this], and how we finally cracked the case on commenting [we did not discuss this]." If Mr. Weisberg did mention those latter topics, it was so briefly that I did not record it in my notes.

Mr. Weisberg views my thesis as "that Slate's doing badly and that the Internet is passing us by." I disagree somewhat. I wrote that Slate produces fantastic editorial content, and that there is concern among staffers, amply documented, that Slate is falling behind.
(Disclosure: I was an intern at Slate from January to May of this year.)
Have a tip we should know? [email protected]
---