NMA's Most Ambitious Video: Tackling Global Economy With USA/China Rap Battle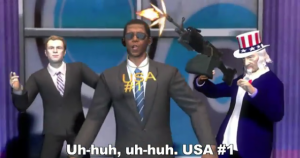 As the G20 summit rolls around, you might be wondering what exactly is going on and what's at stake. Fortunately, the good people at Taiwan's NMA News have explained it the only way they know how; with a nearly four-minute rap battle between President Obama (accompanied by his posse, Uncle Sam and Timothy Geithner) and Chinese President Hu Jintao (accompanied by his posse, a couple of dancing pandas). Even though, in college, I double majored in both Global Economics and Terrible, Terrible Rapping, there was still plenty to be learned in this wondrously insane video.
Uzi-toting Secretary of the Treasury aside, the video is notable as a bit of a departure from NMA. While the company's previously prided themselves on their ability to get videos written, produced, and online within hours, they clearly put a lot more work into this one. Not only does it feature a full-length song (written in English, notably), there's just tons more going on in each frame of the video. As such, the team is clearly proud of it as displayed by the fact that they Tweeted literally every blog and public figure in the United States about it. Just look at their Twitter page: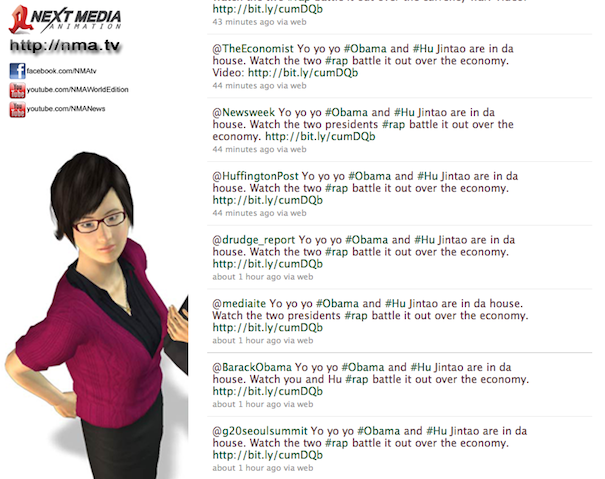 Yeah, that's right. They tweeted us right after Obama. We're only one tweet less important than the leader of the free world. It's true. NMA says so.
So enjoy the epic video especially the parts where NMA's own CG anchorwomen sing the song's hilarious hook ("They're not enemies, they're frenemies, with co-dependent economies"). Sure, the Obama impersonator doesn't have the best "flow" as it were. But, really, there's no reason to think the real Obama would either.
Have a tip we should know? tips@mediaite.com