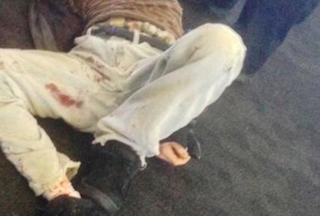 The New York Post published a highly disturbing photo of a man they claim is LAX airport shooter Paul Anthony Ciancia on their website Saturday afternoon. Without listing any source for the photo, the headline calls it the "first photo of shot TSA killer" Ciancia.
The Post's Philip Messing reports that LAX police shot Ciancia four times and quoted sources who said the shot to his face "knocked out teeth and split his tongue." In the photo, the "suspect" can be seen on the floor in handcuffs with bright pools of blood on the floor next to his body. Ciancia is currently in critical condition at a Los Angeles hospital.
As of Saturday afternoon, the Post was blasting the story as the lead feature on its website homepage, enticing readers to view the "graphic content":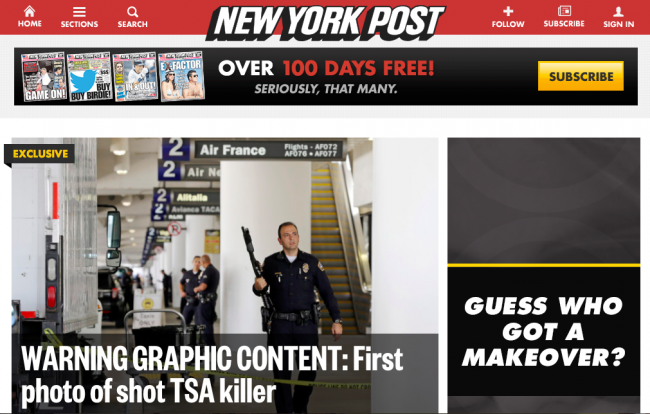 As an "exclusive" to the Post, it does not appear to posted anywhere else online and so far no other media outlets have decided to run it. The carpet in the photo does appear to match previously released photos from the scene, like the one below, via ABC News. But the paper offers no specific evidence to back up the veracity of the photo.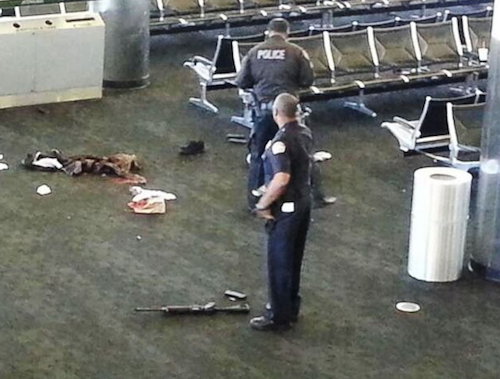 As we learned during the Boston Marathon bombing coverage, the New York Post does not hesitate to publish misleading photos and unsubstantiated claims. "This is the face of a madman," the Post's article reads. But without saying where they obtained the photo, they leave that fact very difficult to verify.
If you are curious, and can stomach it, head on over to NYPost.com to view the full photo, which we will not be publishing in full on this site. And let us know in the comments below, do you think this is for real? And even it is, was it right for them to run it?
[photo via NY Post]
— —
>> Follow Matt Wilstein (@TheMattWilstein) on Twitter
Have a tip we should know? [email protected]