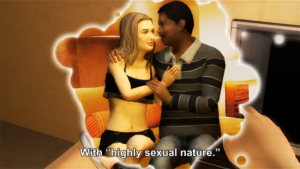 Tiger Woods slept with a lot of women outside of his marriage — golf jokes, jungle cat puns and Ambien aside. But somehow new twists keep revealing themselves in this sexy saga, and voilà, the story has legs for days. I'm not even talking about Derek Jeter. It's these CGI Tiger Woods Machinima reenactments that are ruining journalism! At least according to the New York Times.
We showed you one on Tuesday, but they just keep coming. And it's enough to terrify The Grey Lady: "Welcome to the new world of Maybe Journalism," begins the ethical scare piece, "a best guess at the news as it might well have been, rendered as a video game and built on a bed of pure surmise." Basically, it might not have happened this way, so it's not news. It's just sort of like America's Most Wanted.
A computer-generated "news report" of the Tiger Woods S.U.V. crash — complete with a robotic-looking simulation of Mr. Woods's wife chasing him with a golf club — has become a top global online video of the moment, perhaps offering a glimpse at the future of journalism, tabloid division. (No matter that the police said she was using the club to release Mr. Woods from the car.)
But that's not the problem! "The video is one of more than 20 the company releases a day, often depicting events that no journalist actually witnessed — and that may not have even occurred." A-ha! So, much like the internet in general, these three-dimensional, jokey, animated Asian YouTube videos represent a threat to real news. Or they're just hilarious — there's always that.
Keith Olbermann, though, is not a fan:
"I am awestruck by this," the MSNBC host Keith Olbermann, who had fun with the Woods animation on his show, wrote in an e-mail message. He was both appalled by the video and convinced that it was a harbinger of the future. "Yes," he wrote, "this will be done by somebody, in this country, within six months."
Ken A. Bode, also believes them to be dangerous:
Ken A. Bode, a former national political correspondent for NBC News who is the Corporation for Public Broadcasting's ombudsman, corrected a reporter who called the Woods video a "re-enactment."

"That's a creation," he said. "How does any Taiwanese journalist know what happened between Tiger Woods and his wife?"
And so it gets cultural. But the story of the company, Next Media, is fascinating, as is anything that can get newspeople's panties in a twist. To be sure, there are ethical issues at play here, but watching these clips, it's hard to take any of it seriously. Plus, isn't this The Age of TMZ anyway?
Do yourself a favor and watch this:
Have a tip we should know? tips@mediaite.com