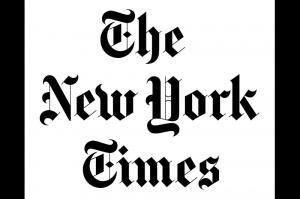 Listen, in the complex worlds of print and digital journalism, even the media giants make errors every now and then. Sometimes it's a slight misspelling of someone's names, or perhaps a job title that's a little off. In these cases, editors print corrections — official statements of error, usually italics, to indicate a slight mistake in an earlier version of the story.
Well, this is certainly one of the greatest corrections of 2016.
On a Sunday story in the New York Times — "Muslim Leaders Wage Theological Battle, Stoking ISIS' Anger," by Laurie Goodstein — the editorial had to offer the following correction:
Correction: May 10, 2016
Because of an editing error, an article on Monday about a theological battle being fought by Muslim imams and scholars in the West against the Islamic State misstated the Snapchat handle used by Suhaib Webb, one of Muslim leaders speaking out. It is imamsuhaibwebb, not Pimpin4Paradise786.
Subaib Webb is a Muslim Imam in Washington mentioned in the piece who holds regular live video broadcasts in order to argue against the religious claims made by ISIS. According to the Times, the move is intended for "… a dig at the extremists, he broadcast from ice cream parlors and called his talks 'ISIS and ice cream.'"
Here is actually a video of Webb, who — as we all hysterically discovered Tuesday — is not Pimpin4Paradise786:
This raises many questions. First of all, it's not as if "Pimpin4Paradise786" and "imamsuhaibwebb" are very close or easy to mistake. How did this editorial error occur? More importantly, who is "Pimpin4Paradise786" on Snapchat? And does that person use geofilters, or that dog filter with the tongue?
—
J.D. Durkin (@jiveDurkey) is an editorial producer and columnist at Mediaite.
[image via NY Times]
Have a tip we should know? tips@mediaite.com