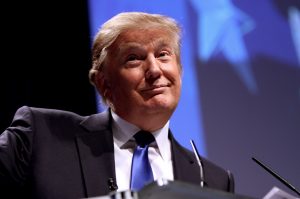 The New York Times just dropped a piece by Nicholas Kristof that hails Donald Trump as the "Groper in Chief." This comes mere hours after the Washington Post released old audio of the GOP nominee for the presidency talking about how he can't stop himself from kissing beautiful women and how famous men can "grab them by the p*ssy" when they want to.
The NYT piece focuses on testimony from Jill Harth, a woman who — along with her boyfriend, George Houraney — did business with Trump in the 1990s. What she told Kristof of a dinner in 1992 when he sat next to her and ran his hand up her leg to her crotch was this:
He was relentless … I didn't know how to handle it. I would go away from him and say I have to go to the restroom. It was the escape route.
Houraney was present at the dinner at the time.
Harth has been speaking out against Trump throughout the election season. Notably, she spoke with Mediaite's Dan Abrams for an exclusive with our sister site, Law Newz. During that conversation, she detailed her 1997 lawsuit against Trump for sexual assault and remaining desire for an apology from the mogul.
The "Groper in Chief" profile revisits accusations that he groped her in Ivanka Trump's Mar-a-Lago bedroom and told Houraney point-blank that he was attracted to her, even though she and her boyfriend made it clear that they'd been together over a decade. That's coincidental, considering that years later, Ivanka would be called on to defend her father against accusations that he is "a groper," which she did.
What timing.
[image via Gage Skidmore]
Have a tip we should know? tips@mediaite.com