New York Times Staffers Set To Protest Contract Negotiations With Monday Afternoon Walkout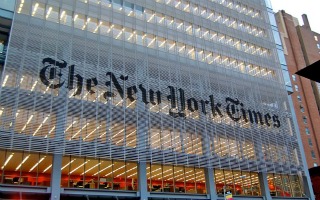 "Gray Lady" employees are set to step out of the office "for a few minutes" late Monday afternoon in protest of the management's stance on contract negotiations, according to an email sent by Newspaper Guild of New York unit chair Grant Glickson, who fired off a message to union members in the morning encouraging them to participate in the walkout.
"Today we begin a series of actions to make sure that the company hears and understands our position," Glickson wrote. "We have more than earned fair wages and benefits. We will accept nothing less…It is time to raise our voices."
The workers may also sign a letter addressed to executive editor Jill Abramson, incoming CEO Mark Thompson, and publisher Arthur Sulzberger Jr. imploring leadership to "step back from this corrosive, needless crisis," as Times staffers are being subjected to "major cuts to [their] wages and benefits" while "working seven days a week, around the clock." The walkout, Glickson wrote, will make a statement against such treatment and condemn stalled labor negotiations:
"We urge you: step back from this corrosive, needless crisis. Consider the relief that The Times has already won in these talks. Reflect on the revelations of this past decade. It wasn't luck or brand legacy that allowed this great institution to make the transition to a digital era during an economic collapse. It was the people of The Times, working seven days a week, around the clock."
The walkout, which isn't mandatory (obviously), comes weeks after 200 staffers reportedly met to discuss "the status of ongoing contract negotiations."
"The Times has started to move a little bit," guild president Bill O'Meara told those at the gathering. "They need to move more."
Today's walkout begins at 3:35 p.m., when a "group will be leaving the building en masse for a few minutes." The event is only for those who can fit it into their busy schedules. The email states:
Please note: This is not a job action. We want you to participate if you have flexibility in your work schedule that permits a 10 or 15 minute break at 3:35. Please plan your day accordingly. If you are unable to join the group, colleagues will bring back stickers.
Read the full article on the walkout here.
Have a tip we should know? [email protected]
---