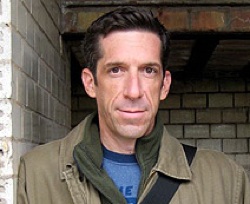 I am thrilled to announce that Mark Joyella, a five-time Emmy winning reporter joins Mediaite today as the new TV Editor. Mark has worked as a reporter and anchor at television stations across the country including Miami and New York and has been honored by the Associated Press, and the Radio-Television News Directors' Association.
Mark has also written for the New York Post, and writes for his blog LocalNewser, which covers the local news industry. His greatest achievement, however, may have been when he became the subject of a blog written by his wife, Tiffanie, My Husband is Annoying. Annoying husband Mark also regularly appears as a New York based contributing correspondent for Australia's 7 Network; appearing on morning shows including Sunrise and the top-rated The Morning Show.
Most recently Mark joined the nonprofit website The Coaching Commons as its first Community Supported Journalist, producing multimedia content as part of an experiment in developing new, sustainable news models in association with Kennesaw State University's Center for Sustainable Journalism. Mark will now be the point person for Mediaite's TV coverage reporting to Managing Editor Colby Hall.
Mark has big shoes to fill since at the end of this week he will be replacing our friend and one of the original Mediaites, Steve Krakauer, who has accepted a job with CNN to become the Digital Producer for the new Piers Morgan show. Steve's smart and incisive coverage made him one of the best and most influential TV writers in the country. While we are sad to see him go this is a great opportunity for Steve (read the CNN press release below.)
We are excited for Mark to start today and wish Steve all the best of luck in his new endeavor.
Official CNN Announcement:
STEVE KRAKAUER JOINS CNN'S "PIERS MORGAN TONIGHT" AS DIGITAL PRODUCER

Steve Krakauer, senior editor of Mediaite.com has been named digital producer of CNN's "Piers Morgan Tonight," set to debut in January 2011 it was announced today by the show's executive producer Jonathan Wald.

"Steve has been a leading voice in the digital world, reporting on cable news, politics and pop culture. He'll be a great addition to the CNN team and will be instrumental in driving "Piers Morgan Tonight" beyond its one hour of television and into a more active online experience," said Wald.

Most recently, Krakauer was senior editor of Mediaite.com, the media news, opinion and rankings website where he covered media and television, conducting interviews with industry leaders, launching multimedia web shows and breaking news. He helped launch the site in July 2009, which is now ranked in Technorati's Top 10 blogs. He was previously an editor at TVNewser.com, and was part of the NBC page program. Krakauer has appeared as a guest on NBC, Fox News and MSNBC. He was named a "rising star" by the New York Times in April 2010. He graduated from Syracuse University's Newhouse School in 2006.
Have a tip we should know? tips@mediaite.com