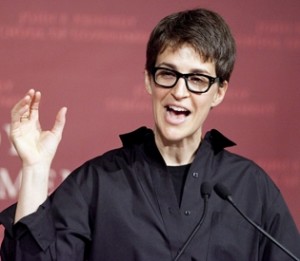 In March, Senator Scott Brown sent his supporters a fund-raising email that claimed MSNBC star Rachel Maddow was planning a Senate run. Maddow responded by taking out a full-page ad in the Boston Globe to confirm that she wasn't planning to run, then called Brown a liar on air. Somehow, though, the rumor of Maddow's candidacy still hasn't died.
Natalie Sherman of the Boston Herald writes that when Maddow delivered the 2010 Theodore H. White address on political journalism at the Harvard Kennedy School of Government last night, the crowd "was positively salivating at the prospect of a Maddow run." Indeed, according to Sherman, students repeatedly asked Maddow whether she would seek office, or tried to goad her into saying she would, but to no avail:
One starry-eyed college student wanted to know what made her switch from politics to news, and from which is she better-placed to change the world?

"I stopped trying to change the world on March 9, 2007," Maddow said, citing the day when she stopped her work as an activist and started at Air America, the liberal radio station.

"You say you're no longer an activist, but aren't you?" persisted one law student.

"No," Maddow said.

"You have confirmed over and over again that you're not going to run for office, and we don't have the privilege to elect you," bemoaned another student.

"I'm real happy with my job," Maddow insisted.
So there you have it: Maddow is happy where she is. Even so, we bet people will continue to speculate about whether or not she's planning to run for office—and short of committing suicide, there's probably nothing Maddow can do about that. Read more about the MSNBC host's speech at the Boston Herald.
Have a tip we should know? tips@mediaite.com