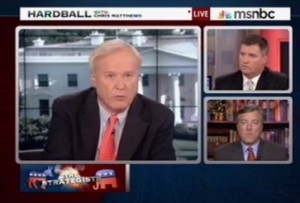 On the overblown heels of "Dickgate," which saw Time Magazine's Mark Halperin suspended from MSNBC for calling President Obama the wrong kind of "cocky," conservative media watchdog Newsbusters has taken it upon itself to choke every verbal chicken that comes out of an MSNBC personality's mouth. The latest culprit is Chris Matthews, who opined that the sight of US lawmakers "dickin' around" over the debt ceiling is not inspiring confidence among world markets.

Here's the clip, from MSNBC's Hardball:
Matthews' larger point is hard to argue with, and despite obvious differences from the Halperin incident (Matthews' show airs in the late afternoon; the verb form of "dick" is arguably less offensive; he wasn't referring to a person or persons, but to an activity that's pretty hard to defend), Newsbusters editor Noel Sheppard's conclusion is essentially correct:
This came a day after numerous F-bombs were broadcast during MSNBC's Independence Day coverage of the Casey Anthony trial.

Speaking of F-bombs, MSNBC intentionally aired one during last Monday's "The Last Word."

Yet the only MSNBCer to be suspended or disciplined in any way so far was been Halperin.

It sure seems vulgarity is quite acceptable on this so-called "news" network – as long as it's not directed at the President, that is.
Given their mission statement, though, it appears that Newsbusters sees this as evidence of liberal media bias. This assertion ignores the fact that Halperin made his statement on the one and only MSNBC program that features a conservative host. The move to suspend Halperin had little to do with profanity, as Sheppard ably illustrates, and everything to do with protecting the prestige and influence of Morning Joe. At best, it was purely a business decision, but if there was a partisan aim, it was to protect a center-right program.
Have a tip we should know? tips@mediaite.com