NFL Commissioner Roger Goodell Reportedly Signs Five-Year Extension Worth Up to $200 Million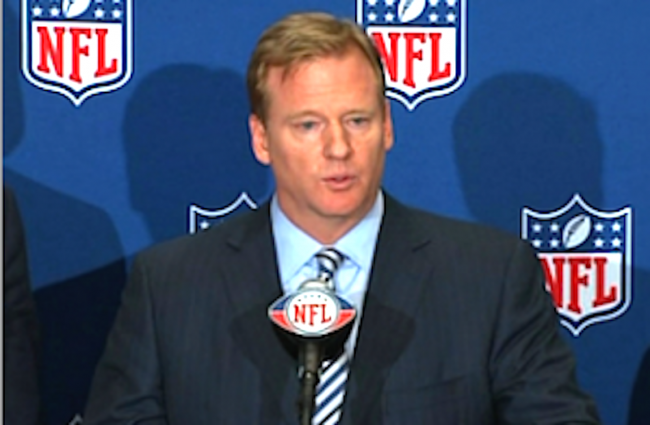 This pact is likely to turn some heads.
In news broken by Pro Football Talk, NFL Commissioner Roger Goodell has signed a five-year contract extension to remain in charge of the country's most popular sports league.
According to The New York Times the deal could be worth as much as $200 million — but much of the compensation is tied to the league meeting certain financial benchmarks.
Goodell, who took over for Paul Tagliabue in Aug. 2006, has presided over a number of triumphs for the NFL, but has also been subject to a great deal of criticism thanks to his handling of several issues. The commissioner helped engineer a settlement with retired players over concussions and brain issues — a lawsuit which had devastating potential ramifications from a financial standpoint. He also generated a number of significant revenue streams by creating new television packages like Thursday Night Football, and featuring games in London several times per year.
But Goodell has come under fire for the way his league has handled disciplinary matters with its players — specifically those involving domestic violence. He also has — in the minds of some critics (most notably Dallas Cowboys owner Jerry Jones) — been reactive rather than proactive on the issue of protests during the National Anthem. Television ratings have been down significantly across the board throughout the year. Speculation abounds as to the reasons why, but many believe the protests are a part of it, as are inferior, watered-down games in primetime slots thanks to the creation of more primetime slots.
Bottom line: Roger Goodell makes NFL owners money right now. And from that standpoint, this deal makes sense.
But we wonder if the league is being penny wise and pound foolish.
[image via screengrab]
——
Follow Joe DePaolo (@joe_depaolo) on Twitter
Have a tip we should know? tips@mediaite.com
Joe DePaolo - Senior Editor