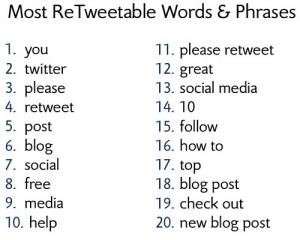 The Twitter "retweet" is the method by which tweets are replicated and responded to, thus passed on to more and more followers, using the user-generated lingo "RT," and has become one of the most important aspects of the social networking service. As part of his upcoming The Social Media Marketing Book, viral marketing scientist (yes, in 2009 this job title exists) Dan Zarrella has compiled a 22-page report called "The Science of Retweeting" after "nine months analyzing roughly 5 million tweets and 40 million retweets," according to a blog post from Fast Company. Though the full report is set for release tomorrow, Zarrella offered Fast Company's Dan Macsai a preview of his findings, including the "nine most effective ways to get retweeted on Twitter," thereby ensuring viral viability.
According to Zarrella, there are ways to maximize your exposure. Though the principles sounds simple, and dare we say, even inconsequential, it is crucial to realize the growing importance of spreading one's ideas online, especially in the face of an uncertain future for journalism.
When layoffs hit a local paper last month, one newly jobless journalist was indignant as he wondered, "How is the fact that I don't have a Twitter or Facebook account relevant to what I do?" But as circulations continue to fall and online readership rises, simple tactical adjustments must be made to ensure the proliferation of your news and ideas over others.
Based on Zarrilla's report, Fast Company has a very detailed overview of the report, complete with charts and graphs so be sure to check that out here. But below is a quick breakdown of the steps you can take to increase the chances of being retweeted:
Use links, but be careful which URL shortener you use
"Please" and "retweet" are the third and fourth "most retweetable" words — so ask nicely!
Don't actually use Twitter to tell people what you're doing at the moment
Abbreviations and emoticons don't cut it
Punctuation is good, but avoid semicolons
Be first with ideas and news
Utilize proper nouns
Negative emotions and complaints are to be avoided
The time and day you tweet on do make a difference
For the full list, as well as helpful charts and graphs, here's the rundown.
Photo via Fast Company and Dan Zarrella
Have a tip we should know? tips@mediaite.com