NJ Senate Candidate Deletes Tweet Insulting Cory Booker, But Insists It Wasn't Racist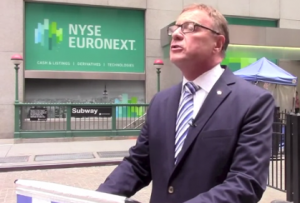 The New Jersey special Senate election has really been heating up on the Democratic side, with Cory Booker way in the lead and his primary rivals doing their best to knock him down a peg or two. Not much attention has been paid to the Republican side, at least until now, thanks to a controversial tweet from the official campaign account for Republican candidate Steve Lonegan. The tweet poked fun at Booker by releasing fake debate notes, but it was swiftly taken down and accused of being a racist jab at the Newark mayor.
This is the offending tweet in question, captured by POLITICO: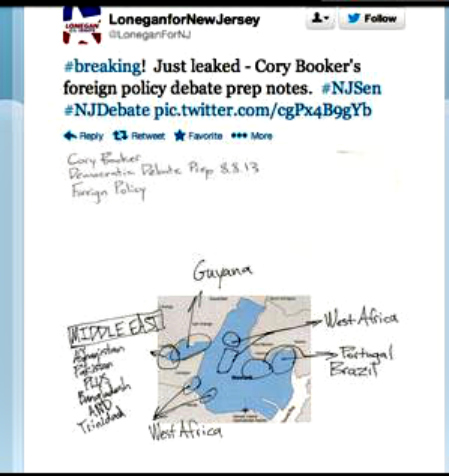 It's a little unclear, but that's a map of Newark with all those other terms scribbled around it. This was part of a stream of tweets Lonegan's campaign sent out the night of this week's Democratic primary debate, but this particular one was deleted because, as one Lonegan advisor put it, "Steve didn't find it funny or reflective of the way he thinks and asked that it be taken down immediately."
But it didn't end there, as much of the coverage of the tweet described it as "racially charged." And while Lonegan did not care for the tweet, he insisted on Saturday it was not racist.
"There's no racism in my campaign, and there never will be… My policies are to support all Americans and provide an economic environment where everyone can prospect, regardless of skin color."
Lonegan has taken issue with Booker's start-up company Waywire and connections to Silicon Valley, saying if Booker is elected, "California will have a third senator."
—–
Follow Josh Feldman on Twitter: @feldmaniac
Have a tip we should know? tips@mediaite.com
Josh Feldman - Senior Editor