'No Breaking News, Just Breaking Conversations': A Look Inside HuffPost Live's Attempt To 'Democratize Media'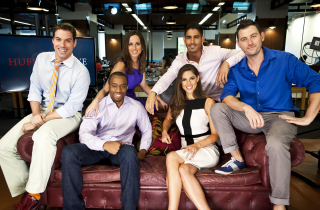 The Huffington Post's live streaming video network, appropriately named HuffPost Live, is little more than half-a-year old but has already left many pondering: Can web-based programming, reliant on "real" people as opposed to the pundit class, revolutionize the way we do news?
Mediaite sat down with the network's co-creator and Huffington Post founding editor Roy Sekoff and its six New York-based hosts to discuss the progress and future of what they consider to be a "reinvention" of the way we communicate news and its related stories.
Based out of the same building as Arianna Huffington's wildly successful "online newspaper," HuffPost Live churns out 12 hours of live programming each day (four of which come from its Los Angeles studio). The network's 10 hosts rotate hosting segments — typically 20-30 minutes in length, already a departure from cable news' standard 7-10 — but have no designated "shows" or "regular themes" like your average cable news programming would feature.
Despite the inclination for many to compare the HuffPost Live to TV outlets, co-creator Sekoff's venture does not aim to simply parrot cable news on the web. Instead, he says, it aims to "actively eschew the 24/7 news model" by "democratizing the media" in a way that traditional outlets have only recently hinted at.
Instead of breaking news, HuffPost Live focuses on "breaking conversations." For instance, in the immediate aftermath of December's massacre at Sandy Hook Elementary School, the network did plenty of segments on the story; but rather than trying to be the first to name the shooter or unearth the sordid details of his motives, HuffPost Live sought to hear from "real people" who've been affected by gun violence in the past. The horrific news item became a multi-faceted conversation exploring how the average person reacts to such a story.
While cable news pundits traditionally attack big stories from speculatively political angles, Sekoff's crew instead look for voices on Twitter and from non-traditional outlets who may have something else to say. In pursuit of "no bloviation, just conversation," the staff reaches all over the web to find guests with unique takes on a variety of topics.
"It's truly liberating," [Shihab-Eldin] says with exuberance. "We give a voice to the voiceless."
Occasionally there will be the big-name interviews – Rand Paul, Bill Maher, Thomas Friedman, etc. – but most of the daily conversations taking place are between the hosts, community members, and lesser-known subject experts.
The aim is not only to attract viewers in real-time, but to create what Sekoff calls a "clip-generating machine" in which segments find second life as embedded video in related news articles on the Huffington Post's main page. It's all part of the goal to "turn text into a multimedia experience," as Sekoff explains. And it's paid off thus far: since HuffPost Live's inception in August, video views have more than doubled to 30+ million per month. Not only does that generate tons of ad revenue, but it gives the video outlet extra life beyond its live tapings.
To further distance HuffPost Live from the high-gloss sheen of cable news, Sekoff and co-creator Gabe Lewis hired a group of telegenic individuals who aren't exactly the most experienced on-camera interlocutors, but each bring unique skills to the table.
Ahmed Shihab-Eldin was the first hire, and the most experienced with the online-only format. Before joining the Huffington outlet, Shihab-Eldin co-hosted "The Stream," Al Jazeera English's own attempt at merging social media with daily programming. "This just got real," Sekoff recalls of the moment he made the hire.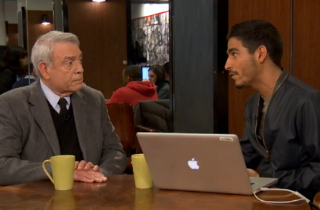 As someone who has lived in Kuwait, Egypt, Austria, and California, and has been a part of other upstart web ventures in the past, Shihab-Eldin is particularly interested in HuffPost's media "democratization" efforts. "The consumers are producers of the product, too," he explains of the platform's meshing of live video, real-time tweet reactions, and clip-sharing.
"It's truly liberating," he says with exuberance. "We give a voice to the voiceless."
The network's second hire was frequent cable news guest: Alicia Menendez. Sekoff explains that her hiring was a "no-brainer" because of her gift for serious political analysis – something she did for years on the big three cable networks – but also for her ability to handle something as fluff as… interviewing a dog (yes, that happened).
>>CLICK FOR PAGE TWO: HuffPost Live Hosts Discuss Putting 'Flesh And Blood On Data,' How To Handle Boring Guests, And Avoiding The 'Pro-Wrestling Match' Of Cable News
— —
>> Follow Andrew Kirell (@AndrewKirell) on Twitter
Have a tip we should know? tips@mediaite.com