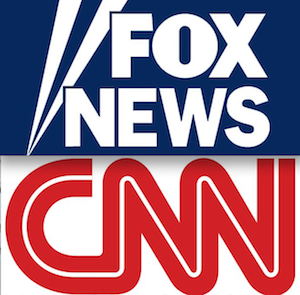 Nature abhors a vacuum. And when Fox News decided to cancel its GOP debate scheduled for Monday night (a decision prompted by announcements from Donald Trump and then John Kasich that they would skip the event), CNN programmed its own primetime block that night to feature interviews with all five of the remaining presidential candidates.
Anderson Cooper and Wolf Blitzer will host the three-hour primetime event, which will air from 8-11 p.m. ET on CNN, CNN International, and CNN en Español, and it will be live-streamed as well. Republican candidates Trump, Sen. Ted Cruz, and Kasich as well as Democratic frontrunner Hillary Clinton are all scheduled to speak at American Israel Public Affairs Committee summit in Washington that day, and will be appear in interviews taped at the CNN in the nation's capital. Sen. Bernie Sanders, who is not speaking at AIPAC, will be interviewed from the campaign trail. The network has not announced which anchors will interview each candidate.
Fox News cancelled its debate Wednesday after Trump and Kasich announced their intention to sit it out — Trump citing a prior obligation (reportedly his AIPAC speech) as his reason for skipping the event, and Kasich citing Trump's absence. But Fox is also planning to include interviews with presidential candidates heavily during its primetime block that night: Bret Baier will host interviews Kasich and Cruz on Special Report; Trump will appear on an hour-long special devoted to immigration in Arizona, hosted by Sean Hannity; and Cruz will appear live on The Kelly File.
Have a tip we should know? tips@mediaite.com