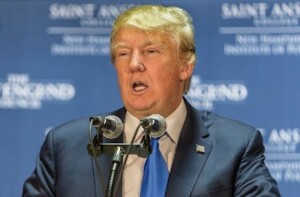 I really don't care for Donald Trump and his insane, corrosive candidacy. But this idea that he attacked veterans with PTSD today is absolutely ridiculous.
Trump took questions at a Retired American Warriors PAC today and said something that people have taken way out of context.
Here's the quote in question:
"When you talk about the mental health problems, when people come back from war and combat and they see things that maybe a lot of the folks in the room have seen many times over and you're strong and you can handle it, but a lot of people can't handle it."
But here is the full relevant transcript of the question posed to Trump and his answer, and yes, it is not as bad in context:
OK, wait — in context, that @realDonaldTrump quote on PTSD isn't nearly as damning. https://t.co/aRrX29IZ08 pic.twitter.com/wGaFl51OUl

— Leo Shane III (@LeoShane) October 3, 2016
For the record, this is how Team Trump responded, in a statement from retired Lt. Gen. Michael Flynn:
"The media continues to operate as the propaganda arm of Hillary Clinton as they took Mr. Trump's words out of context in order to deceive voters and veterans—an appalling act that shows they are willing to go to any length to carry water for their candidate of choice. Mr. Trump was highlighting the challenges veterans face when returning home after serving their country. He has always respected the service and sacrifice of our military men and women—proposing reforms to Veteran Affairs to adequately address the various issues veterans face when they return home."
It was appalling when Trump attacked John McCain by saying he likes war heroes who don't get captured. It was disgusting when Trump held a veterans fundraiser for the sole reason of sticking it to a Fox News host he didn't like. And the fact he hasn't adequately addressed his past deferments and draft-dodging is inexcusable.
Having PTSD does not make you weak. Period. But I honestly don't think that's what Trump was saying. It sounded like he was saying that there are veterans who are able to adjust better than others, and those that struggle with PTSD need serious help.
If Trump is guilty of ANYTHING today, it's this:
There is an issue of conflating strength with resilience against PTSD, though. It can drive feelings of weakness and avoidance of help.

— Alex Horton (@AlexHortonTX) October 3, 2016
Every national leader has a responsibility to use accurate and appropriate language when talking about mental health and suicide especially.

— Paul (PJ) Rieckhoff (@PaulRieckhoff) October 3, 2016
Terms like "killing yourself" or "mental problems", or any any suggestion that suicide only impacts the weak, perpetuates stigma…

— Paul (PJ) Rieckhoff (@PaulRieckhoff) October 3, 2016
…it can also promote contagion and may discourage people from getting help for mental health injuries. Getting help is a sign of strength.

— Paul (PJ) Rieckhoff (@PaulRieckhoff) October 3, 2016
So at worst, what Trump did wrong was speak in broad, simplistic terms about vets suffering from PTSD.
But you need to look at the context of what Trump said. Whether you think he believes it or not, or whether you think it's weird how Trump views every single thing from the prism of strength and weakness, the bottom line is that Donald Trump was not trying to attack or belittle anyone.
A lot of the attacks that Trump has engaged in on the campaign trail have been with nasty, sometimes malicious, intent. But if you have the mentality that Trump is the worst thing ever, then sometimes it can be hard to see nuance or think that he could say things you agree with.
Maybe, just maybe, not everything Trump says is an outrage.
[image via Shutterstock]
— —
Follow Josh Feldman on Twitter: @feldmaniac
This is an opinion piece. The views expressed in this article are those of just the author.
Josh Feldman - Senior Editor