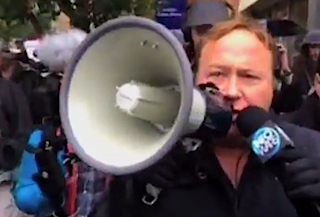 The assassination of President John F. Kennedy is probably the greatest source of conspiracy theories in American history. So it only makes sense that InfoWars' Alex Jones would descend on Dallas, Texas with about 50 of his most ardent followers to protest what he views as some sort of massive government cover-up.
Jones broadcasted his protest live on InfoWars, and in the clip below, you can see him using a bullhorn to lead his crowd in a chant of "No more lies! No more lies!"
"We are not going to put of with the lies of the globalist anymore!" he screamed. "We are not going to let this country become Communist China! We are not going to see our free speech violated! We are not going to let the globalist and the internationalist media here attack anyone that does not believe the official story!"
Jones confronted a police representative who attempted to get him and the crowd to hold their protest in a designated "free speech zone" where they would be out of the way of the official anniversary ceremony events. "Free speech zone?" Jones asked. "Is North Korea a free speech zone?" When the officials threatens his arrest, he made an analogy to Tiananmen Square in China.
Aside from drawing some extra attention to his website, it's not entirely clear what Jones' protest accomplished. But with so much somber reflection happening on television and across the country, the 50th anniversary of JFK's assassination would not have been complete without a good conspiracy theory demonstration.
Watch video below, via InfoWars:
[photo via screengrab]
— —
>> Follow Matt Wilstein (@TheMattWilstein) on Twitter
Have a tip we should know? tips@mediaite.com