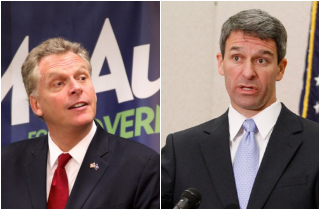 "The major-party candidates have earned the citizenry's derision," the Richmond Times-Dispatch wrote Monday morning. "The third-party alternative has run a more exemplary race yet does not qualify as a suitable option. We cannot in good conscience endorse a candidate for governor."
The off-year Virginia Gubernatorial race is the biggest election of the season, and is being closely observed for signs of the electorate's mood ahead of the 2014 midterms. For all that, neither Republican Ken Cuccinelli nor Democrat Terry McAuliffe has inspired much excitement. The Times-Dispatch said it had never not endorsed a candidate before.
The paper accused Cuccinelli of having "rigged" the GOP nomination, selecting by committee rather than primary a host of conservative candidates who share his right wing views on social issues. "The expression of raw power would have delighted sachems of Tammany Hall," the editors wrote. "Virginia does not welcome an in-your-face governor." Meanwhile, the paper dismissed McAuliffe as having been nominated "by default."
RELATED: The View Destroys Cuccinelli's Anti-Sodomy Law: 'What Ever Happened To Virginia Is For Lovers?'
The editors praised the libertarian candidate for managing to not "embarrass" the state, but faulted him for a disqualifying lack of experience.
"In the past, The Times-Dispatch has endorsed candidates with varying degrees of enthusiasm," the editors concluded. "We find it impossible to endorse any of the 2013 candidates with even minimal zeal. Elections make voters complicit in the government they receive. If we would not urge a family member to vote this way or that, then we have no business recommending Cuccinelli, McAuliffe or Sarvis to our readers."
Read the editorial HERE.
[Image via Read the Hook, Politico]
——
>> Follow Evan McMurry (@evanmcmurry) on Twitter
Have a tip we should know? tips@mediaite.com