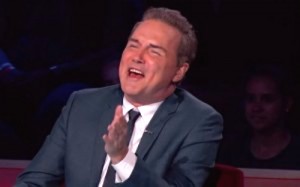 Saturday Night Live alum and Last Comic Standing judge Norm Macdonald talked to the Hollywood Reporter in a recent interview, and the subjects covered run the gamut of possible topics. At least, the subjects THR chose to print.
Perhaps the most enticing part of the discussion, however, comes during the interview's second half when Macdonald rails against Real Time host Bill Maher, GOP candidate Donald Trump, and — to a greater degree — political comedy in general.
The fun starts when, after discussing a recent episode of Last Comic Standing, THR's Seth Abramovitch asks Macdonald about his supposed "aversion to political humor" despite anchoring Weekend Update on SNL:
I didn't really think we did political humor on Update. Because most political humor is biased toward what the comedian thinks, so then it just becomes dull. Personally I'd rather just read politics. Like when people go, "Kids get their news from Jon Stewart," then I go, "Well, then they're in big trouble if that's where they get their f—ing news." Because the whole show is just making fun of Fox News. I don't know where the news part is. It's a hilarious show because I don't think it's political.
Despite Macdonald's explanation, Abramovitch pressed the comedian further by bringing up a relevant example — Real Time with Bill Maher and its titular host. Since Maher is both a "political" and "atheist" comedian, what does Macdonald think of him?
I find him completely unfunny. Like, maybe the unfunniest person I've ever encountered that's called a comedian. I like his show because of the arguing back and forth and he knows a lot about politics. But the worst is when he forces you to sit on the panel while he does his New Rules, which are just a bunch of jokes. And you have to sit there, a foot from the dude with a camera in your face. You'd think he would just excuse them, but no, you have to sit there and watch.
Macdonald regularly mocks Maher in his stand-up, so his opinion of the HBO panel show host comes as no surprise.
Yet it's when Trump comes up in conversation — despite the comedian's professed dislike of mixing politics and comedy — that everything becomes both wonderful and terrible. For even with the caveat ("You may be disinterested in political humor, but I have to ask for your thoughts on Donald Trump"), Macdonald is more than willing to discuss the New York business mogul's run at the White House.
He's even able to cut through most of the usual Trump fluff (despite talking about it anyway) and contribute something new, like when he ponders why voters like the candidate despite the godawful things he often says:
It's so bizarre. But he can win every debate by not being afraid to be apolitical and just being brutal. The other person can't do that – they can't strike back in the same way. He's already said Hillary has broken the law and should go to jail. So that's what he'll say. So far everything has worked and that will work, too. He says truthful things and that's what people like about him – but he just seems so terrible as a person.
Unfortunately, the comedian falls into his own explanation of why political comedy is so "dull" when he ultimately compares Trump to Adolf Hitler. Macdonald essentially proves his own earlier point about why he doesn't do, and doesn't prefer, comedians who talk politics.
Though in his defense, the interviewer wouldn't stop bringing up politics.
[h/t the Hollywood Reporter]
[Image via screengrab]
— —
>> Follow Andrew Husband (@AndrewHusband) on Twitter
Have a tip we should know? [email protected]