Not So 'Irreplaceable': People Furious Over Minnesota's 'Beyoncé Day' Proclamation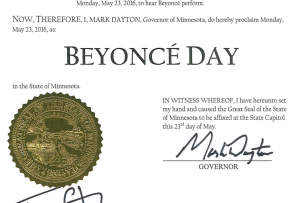 The state of Minnesota's official proclamation naming May 23, 2016 as "Beyoncé Day" was an innocent enough gesture. Signed off by both state Governor Mark Dayton and Lieutenant Governor Tina Smith — both Democrats — the single-page document recognized the singer's long career success, noting, "Beyoncé has influenced many young girls women with powerful, positive messages in her songs."
But the moment that Fox 9 posted a copy of the proclamation onto its Facebook page, scores of angry Minnesotans indicated that literally anyone but Beyoncé should run the world. Clearly, some people have no interest in sipping the Lemonade.
Here is just a small sampling of some of the highest rated comments left on the Fox 9 Facebook thread:





More than a few people called into question the move largely considering the fact that Minnesota was always the home of the late Prince, who never received such a state-wide distinction, despite his popularity, legacy, and influence:


A few people cited the controversy that emerged following the Super Bowl 50 halftime performance as a result to be insulted with the Governor's proclamation. Beyoncé's Formation was largely critiqued as an anti-police sentiment; Javier Ortiz, the head of a Miami police union in February outright called for a boycott of the Formation tour in response to the music video for the hit song. Although the singer said at the time, "…anyone who perceives my message as anti-police is completely mistaken," that didn't stop Minnesotans from piling on the issue Monday: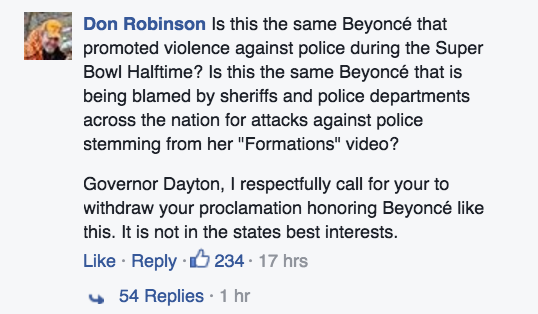 However, at least one Facebook user cited Governor's Dayton's longstanding economic success as an indicator that just perhaps this whole issue was being blown out of proportion: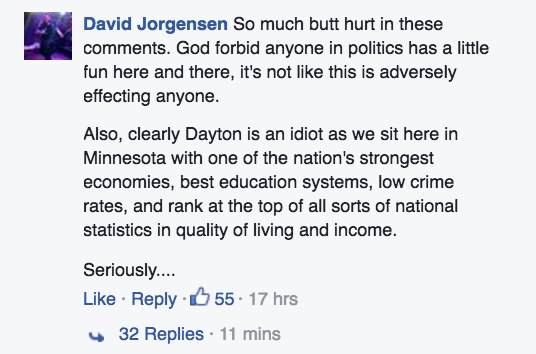 The selection of yesterday to acknowledge as the Day of 'Yonce aligned with the singer's highly-anticipated performance at the TCF Bank Stadium in Minneapolis.
Have a tip we should know? tips@mediaite.com